There are such a lot of music theory worksheets & rhythm games here on Let's Play Music. So now that I thought it would be useful to round up a few of the favourites!
Of course, there is no substitute for a fun music lesson with includes movement, percussion instruments or manipulatives. But music theory work sheets are a great way to consolidate the lesson and help it sink in.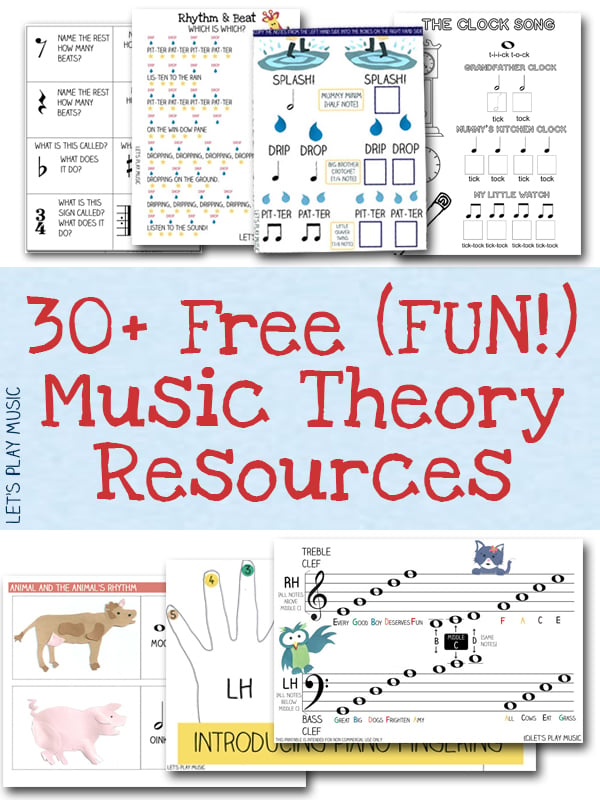 Most Popular Music Theory Worksheets On The Blog
The Clock Song : An Easy Way To Learn Note Values
How To Tell The Difference Between The Rhythm And The Beat
A Fun Way To Teach Musical Note Values
Lego Beats Music Manipulatives
Birthday Cake Music Note Matching
Do – Re – Mi Chime Bar Characters
If you are new to music theory read my Introducing the Note Family post which explains basic note values in a child friendly way. Or check out my How To Read Music Made Easy ebook which is accompanied by lots of handy printables and worksheets.
Visit our Free Resources Page  for tons more free printable sheet music, ring games and rhythm games!
If you'd like to see how I integrate these sort of activities into a structured music lesson, do check out my  Let's Play Music lesson Plans, which  detailed teaching notes and printable resources