One of the wonderful things about childhood is that children can find fun in everything. Even a rainy day is full of possibilities. Suddenly the world is dripping wet, and special clothes and umbrellas are required, it is all such a novelty!
Just as rain makes everything look different, it makes different sounds too. So there's tons of fun and plenty of learning to be had by exploring these sounds with some rainy day rhythm games and percussion instruments.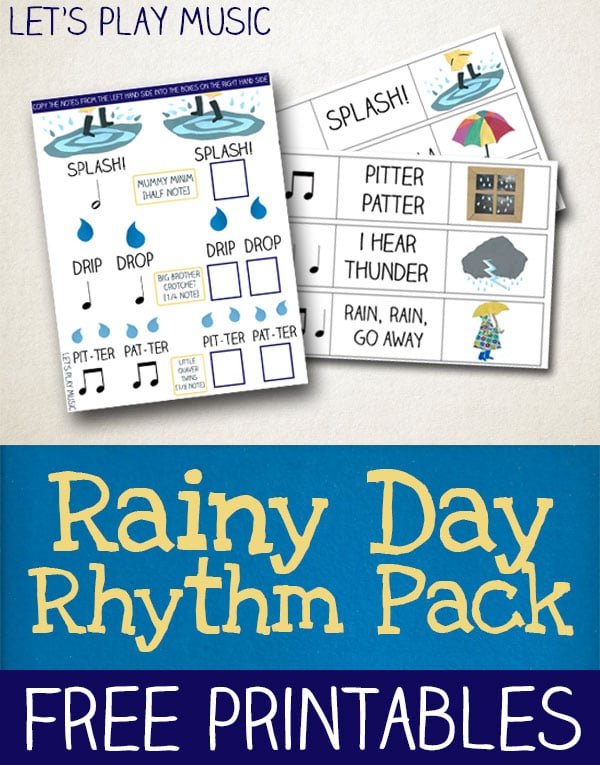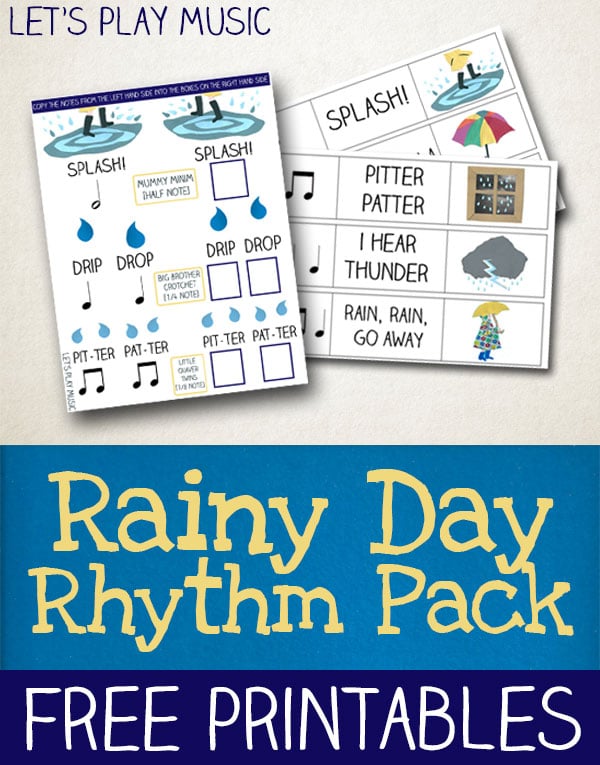 We have lots of great rainy day songs to accompany these rainy day rhythm games. Check out The Umbrella Song, I Hear Thunder, Splashing In The Puddles and Pitter Patter Pitter Patter which all explore the sounds and rhythm of the rain. After you have sung one of these songs you could have a go at making some rainy sounds using our free printable Rainy Day Rhythm Games Pack. To print, click here or on the image above.
Ideas for using the rainy day rhythm games pack
1. First look at the pictures together and discuss which sound matches which picture. Practise clapping and saying the rhythms together. Try guessing which is which as you clap the sound and ask the child which picture it belongs to. Mix them up to make it a bit more tricky!
2. Decide together which instruments are best to make each sound, a bang and shake of the tambourine for SPLASH for example, or tapping a triangle for Pitter-Patter Pitter-Patter. If you don't have four different instruments you can just improvise. You can use biscuit tins, wooden sticks and home made shakers. But if you want to start your own collection, this bundle of percussion instruments is great value!
How To Make The Game More Challenging
3. Younger children are very happy just matching the sounds to the pictures and perhaps choosing the right instruments too. But if they've grasped these ideas easily you can take the game a step further by making it a memory game too. Having agreed which instrument belongs to which sound, hold up each picture in turn and see if they can make the correct sound with the right instrument.
4. Make sure everyone has a go.
Get Moving!
5. By now, everyone is familiar with the rhythms, instruments and which picture they belong to. So now you can add some movement to the game. Move into a space and encourage everyone to 'blow some magic' on their hands and rub it on their feet! They can even put their magic boots on and put up their pretend umbrellas!
6. Put the selection of instruments in the middle on the floor, place the picture cards in a bag and let each child take turns to come to the centre. They choose a card, select the correct instrument and make the corresponding rhythm sound. Everyone then can either take very large steps splashing in puddles (1/2 notes /minims) large steps for the drip drops (1/4 notes/ crotchets) and little fast steps for the pitter patters (1/8 note quavers).
These rainy day rhythm games are packed with educational benefits. They develop listening skills, rhythm recognition, memory, concentration, comprehension, imagination and gross motor skills too – so don't forget to try them out next time it's a rainy day!
If you're looking for inspiration on how you can integrate these Rainy Day Rhythm games into a music lesson, take a look at my rain themed lesson plan.
If you are new to music theory, read my Introducing the Note Family post, which explains basic note values in a child friendly way and check out my How To Read Music Made Easy ebook which is accompanied by lots of handy printables and worksheets.
For more rhythm activities for kids, check out our Pinterest board.
Follow Sara @ Let's Play Music's board Rhythm Games & Activities on Pinterest.


If you enjoyed this post, come and join us on Facebook, Pinterest and Subscribe  for many more musical ideas!