Over the last few weeks I've been looking at all sorts of different and easy music manipulatives for introducing basic notation and new musical concepts. These are a great way to bring the subject to life and really engage young beginners.
I found these fun Music Fortune Tellers from Just A little More on Pinterest – What a great idea! Check out the post for a free template to make your own music fortune tellers – A fun way to review musical concepts which goes down very well!
Another clever idea came from the Mrs King's Music Class blog which is a fantastic source of ideas and inspiration for music teachers. Mrs King uses super cheap, plastic file wallets and dry erase marker pens,  to practice music notation listening and writing kills. It's a perfect resource for beginners – quick and easy to rub out any mistakes and ready to re-use over and over again. Check out the post, I bet these lap packs come in handy all the time!
If you want something similar but on a bigger scale for teaching the whole class, this Dry Erase Music Staff poster and Music Note & Symbol set is a great visual and manipulative teaching aid.
This DIY Magnet Music Notes activity is so easy and cheap to make, and in these days of digital overload it has a refreshingly retro appeal! You can find the full post with the Free Printable Notes Sheet here.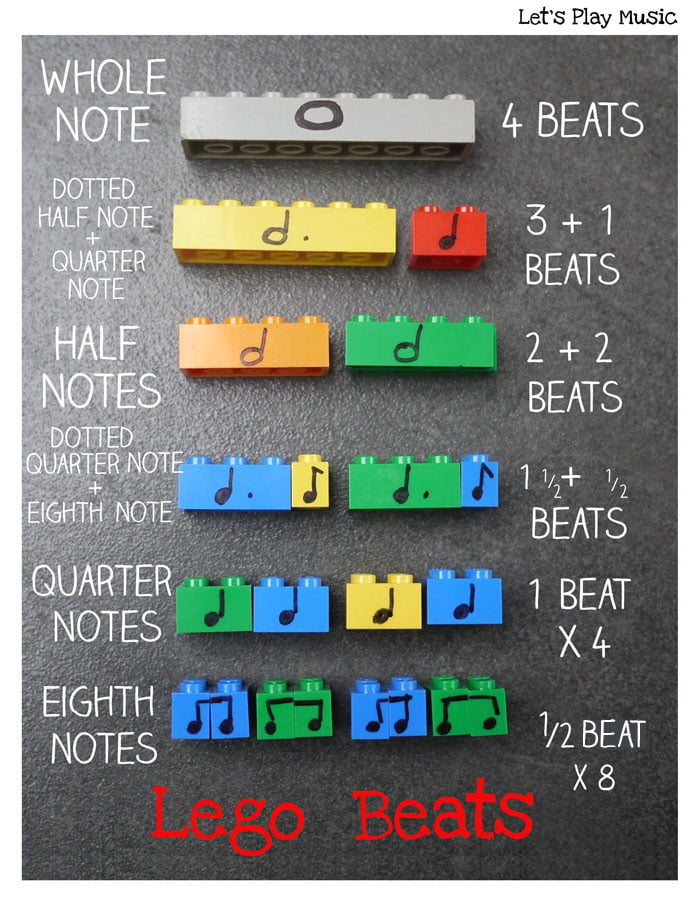 Lego makes a brilliant music manipulative –  teachers often use it to for maths lessons and so it's also an excellent way to teach rhythm and notation. Check out the full post for how the FREE PRINTABLE LEGO BEATS SHEET to use these lego beats for a fun way to explain how notation works that is both visual and physical.

Trains are always a firm favourite, and playing this music note naming with trains activity is a fun way to help them practice the order of the do- re-mi colours and the notes on the stave. It's a fun up-cycled craft activity too where each child can make their own coloured train and then find where it belongs on the stave. If you don't have time to make the trains like this, there's a handy free printable trains sheet provided in the post, just click on the link above.
If you've enjoyed this post, check out our new How To Read Music Theory Bundle? It's full of fun & child friendly ways to learn to read music!