Lego is such a brilliant toy!  Teachers often use it to teach maths and so it's also an excellent way to teach rhythm and notation with these lego beats music manipulatives.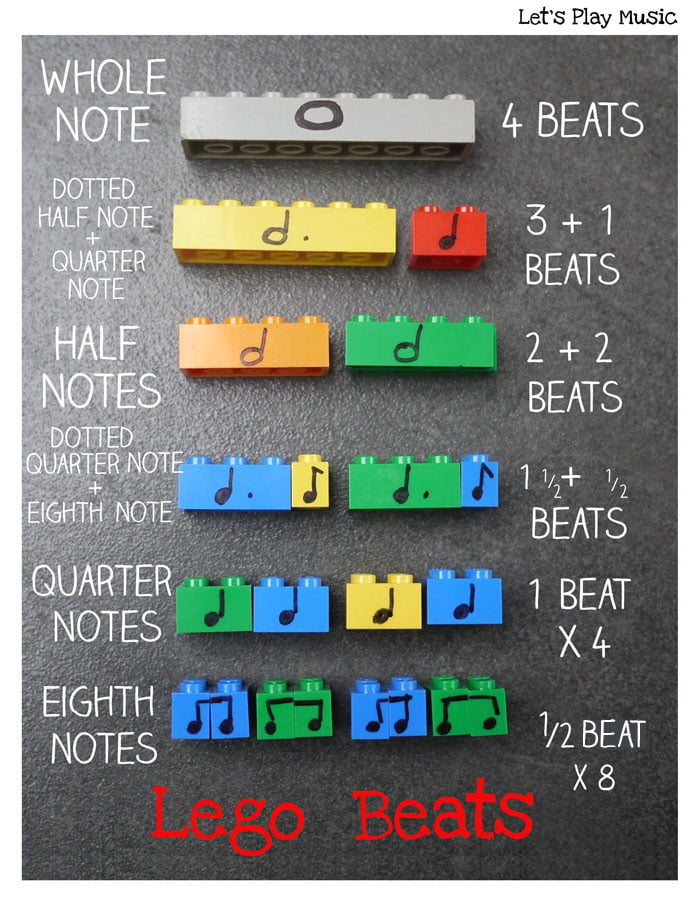 How To Use Lego Music Manipulatives
Younger children find the chunky 'Duplo' easier to manage so it's best to start off with this for younger pupils. But as they move on to learn about dotted rhythms etc. there aren't enough different sizes of bricks – so I find that the standard lego works best as kids progress.
Play Hunt The Brick
Start by making the whole process a game; produce a huge box of lego bricks and find one large 2×8 Whole Note (semibreve) Explain that this represents a Whole Note and that it lasts 4 beats.
Tell them to hunt for a Whole Note each.
Using an permanent marker,  draw a Whole Note on each of the bricks.
Counting Practice
Find a 2×4 brick to represent a Half Note (Minim) and explain that a Half Note has 2 beats – so 2 Half Notes = A whole Note.
Repeat the process, let the kids find their own Half Note bricks and draw the notes on them, but this time they need 2 each.
Next find a 2×2 brick for a Quarter Note (Crotchet) explain that a Quarter Note has 1 beat.
 4 Quarter Notes = A Whole Note so tell the kids they need to find 4 Quarter Note bricks – draw the notes on each brick.
Now repeat the process for Eighth notes.
Now ask the children to fit the bricks together, so each row equal 4 beats like in the image above.
Use the Lego beats bricks regularly to remind them of their note values.
This collection of Lego Beat bricks is an excellent music manipulative that gives both a visual and physical explanation of how notation works. When they are built together with the Whole Note at the top, 2 Half Notes underneath, then 4 Quarter Notes under that, and lastly 8 Eighth Notes along the bottom, they can be used whenever children need a bit of help with reading or remembering the time values of notes.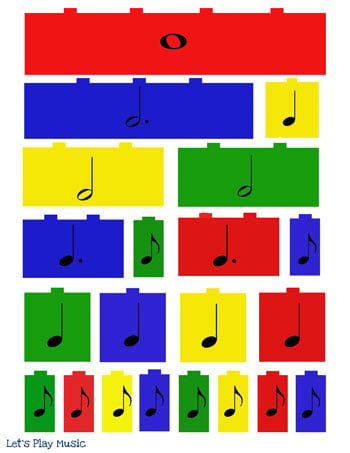 If you don't have the right size lego bricks, then you can print off our FREE PRINTABLE Lego Rhythms sheet. Mount the sheet on card, then cut out the individual bricks and write the time value of each note on the reverse side. Use these Lego cards in the same way as you would the real lego (it's nearly as good as the real thing!)
Another fun way to use the Lego Beats is to play 'Hunt The Lego Brick'  which works just the same as the old favourite 'Hunt The Thimble' but you just decide on a different note value each time. To make it more interesting, try hiding some incorrect bricks around the room too, to catch them out!
Introducing Dotted Notes
Once children understand the basic notes you can introduce dotted notes too.
A dot after a note adds on half that note value again.
So a dotted Half Note becomes 2 + 1 = 3 beats
A dotted Quarter Notes becomes 1 + 1/2 = 1 1/2 beats
You can add the new dotted notes to the collection of lego bricks and use them in the same way.
Have you seen our new How To Read Music Theory Bundle? It's the fun & child friendly way to learn to read music!