Let's Play Music Weekly Lesson Plans! Themed lesson plans for children from 2 – 7 years.
Since I started Let's Play Music I've been busy building up the content which is based on the 25 years of my experience teaching music. Nowadays there's a considerable amount of material to navigate and so of course it can be time consuming too.
There are 100's of themes and a huge variety of activities which all have different educational benefits. And of course sometimes it can be difficult to find what you're looking for.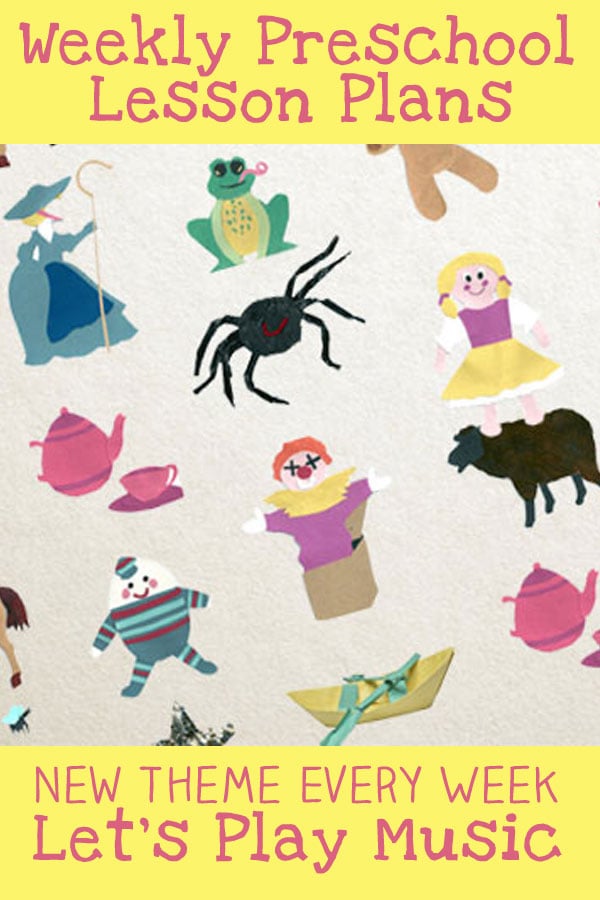 As time is a precious commodity for everyone these days, I've decided to introduce weekly lesson plans which will cover a different theme or topic each week.
The plans will provide detailed guidance on how best to use our existing content to structure balanced music lessons. In the hope that they'll help to keep the inspiration flowing, which can often become difficult to sustain on a weekly basis.
What's Inside?
These plans include a step by step outline of each lesson with teaching support and tips. They also include all the accompanying printable resources needed for each lesson and a full list of any recommended materials or music links. With detailed information on how you can adapt each lessons for children of different ages and experience levels.
I do get lots of questions on the blog about how to teach various musical concepts. Understandably, I think that new teachers of young children can find the idea of 'proper music lessons' a bit daunting, especially if they didn't really study music themselves.
In essence these plans will guide the teacher through a structured weekly programme. Lessons which are intended not only to explain and build up musical skills but will also to be an enjoyable and fun weekly highlight in the classroom.
To make sure you don't miss them, follow us on Facebook or subscribe to our newsletter which have all the links to the latest posts. The titles below highlighted in green are links to the themes which are available now. Click on the title to take you to the relevant page for more details about each lesson. Grey titles are the themes that are not yet published and will be coming soon.
I will be adding to them over the next school year so there are many more themes to come. Also don't forget to explore the rest of the digital musical resources available on the website over in our store.
Busy Bees
Bakers & Buns
Monsters
Tea Parties
The Jungle 
Shapes
Pigs & Wolf
Fairytales
Here's some feedback from satisfied customers 🙂
I have purchased every lesson you have available and LOVE them all!! I lead music classes for toddlers and preschoolers and I love how each of your lessons builds on each other. They are easy to adapt for the different ages. The parents of my students love that their kids are learning early music education while having a blast and that the kids go home and sing and stomp out rhythms. I would highly recommend your plans to everyone. And I look forward to seeing the other lessons.

Debra Neff

"I downloaded the clocks and mice lesson plan and LOVED it. I'd like to start a music program in my classroom based on your lessons. Is there a way to purchase more than one lesson at a time from you? I'd love to buy 30-40 lessons from you to fill up an entire school year if I could!"

"I purchased "Clocks and Mice" to teach to my 3-5 year old preschool class. They loved the songs, games and playing the chime bars so much that I stretched this lesson over three weeks! (The music class is once a week.) Now we are transitioning to "Cat's and Kittens" which is a perfect compliment to "Clocks and Mice." They are learning so much through play and music with these two lessons.

I find these lesson plans perfect for preschoolers and easy for me to follow. I will never teach a music class without one! Thank you for providing such a wonderful resource."

Jeanne Garlets

"Sara, you are AWESOME. Thank you so much for these wonderful ideas. I can't wait to use these books, music and ideas with my little ones in school. I am truly a fan of yours."

"Thanks so much for doing these lessons plans they are great."

"I am starting my first preschool music class next week and I need your website! :)"

"Thank you so much! I really appreciate your site. It's been a wonderful resource for me as a music teacher."

"Thank you for the quick response and music sheet! Fantastic! I am very pleased with your work!"

"I purchased your first piano lessons and love it. I also purchased Chester's easiest piano course. Didn't you have other suggestions for piano courses? I use Faber Series, but I like your book better and love Chester's."

"I'm a preschool music teacher and have been using ideas from your site for awhile now and the kids just love them. Thank you!"