Everyone loves a slice of Birthday cake and it's a really easy way to explain the concept of note values to small children.
Birthday Cake Music Note Matching Song
Happy Birthday to you,
Do you think it is true?
That a whole note (semibreve) has 4 beats,
Do you think it is true?
(sing to the tune of 'Happy Birthday' and change the note and number of beats each time)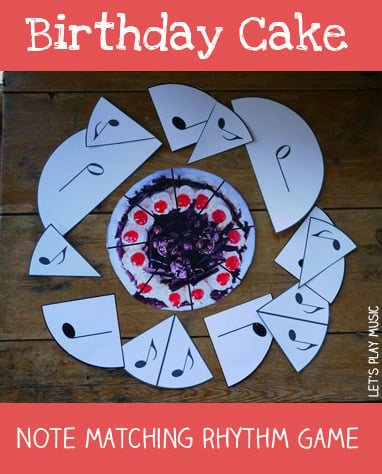 This little game is a good way to learn and practice the number of beats that each note has. Children love it because you explain that you'll be trying to catch them out! Sing the song a couple of times correctly and slip in an incorrect one i.e 'that a half note (minim) has 4 beats' to see if they spot the mistake.
When they've got the idea, the children can then have a go catching each other out. This always seems to go down particularly well!
Small children who are too young to know about the concept of fractions may find it difficult when it comes to learning about crotchets and quavers or half notes and quarter notes. They do know about sharing out a cake though, and this simple Music Note Matching game makes it much easier for them to understand. Play this game after singing the 'Happy Birthday' song written out above to help explain how a semibreve/whole beat divides into shorter notes.
How To Play The Birthday Cake Music Note matching Game
Using the free printable, mount the sheet on card and then cut out the whole cake and set of cake slices.
First discuss how you can divide a cake up, explaining that if there are two people you cut in half, for four people you cut it into 4 which you call quarters, and eight people into eight pieces which you call eighths.
Place all of the cake slices face down on the table.
Each player takes it in turns to pick a slice and turn it over. If it has a quaver or an 1/8th note on it then they can place it on the cake in one of the marked 1/8 note spaces. If they pick a different note, for example a crotchet or 1/4 note, they have to put it back face down and wait for the next go. Like traditional pairs, they should try to remember which one it is as it might help them to win!
The game continues and when the eight slices are all in place, you then have to find the crotchets or 1/4 notes. Place the 1/4 notes or crotchets on top of the 1/8 notes or quavers.
When the 4 crotchet slices (1/4 notes) are all in place there should only be 3 cards left and it's easy to see which ones they are too. This bit is very quick!
Next you place the Minims (half note) slices and the person who places the last semibreve (whole note) on top of the pile of cake slices is the winner.
It's a very quick and easy game but it provides a visual and simple explanation to a concept that some children find quite difficult to understand. After playing it a few times it all becomes clear.
If you've enjoyed this post, check out our new How To Read Music Theory Bundle? It's the fun & child friendly way to learn to read music!
Get musical inspiration into your inbox!
Receive updates from Let's Play Music straight into your inbox!