Introducing musical notation as the note family with characters to represent each note makes a tricky concept immediately accessible. This way, children find the note names and their time values so much easier to remember. Make sure to explain that these are their nick-names to help us to tell which is which, and point out the proper part of the name too.
Introducing The Note family
First of all using the sheets below, clap or tap the sounds and lengths of the notes together.
Then play Up and Down The Escalator first with Big Brother Crotchets (1 beat notes)
Then with Mummy Minims (2 beat notes), and then with Daddy Semibreves (4 beat notes).
Younger children won't be able to play quavers at first as this requires more control, so leave them for now.
Play this in both hands.
Using the work sheets have a quiz, where you can take it in turns to test each other, guessing which notes you are playing. Use wooden sticks or a drum to tap the rhythms,  and you can have lots of fun marching around the room to Magic Feet Follow the Beat.
Play these games often, to build a firm understanding, and easy familiarity with the names of the notes and their values.
These song and work sheets below are an excellent way to practice and help to make first piano lessons fun! (Click on the images to download and print)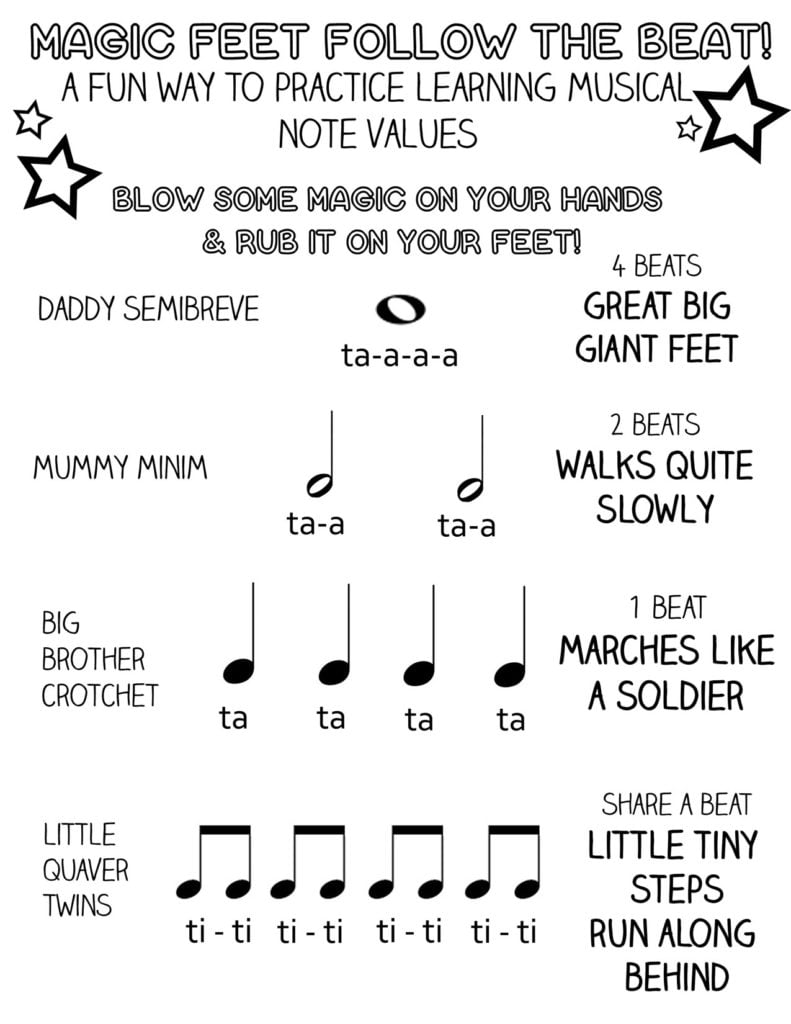 Don't miss the other lessons in the First Piano Lessons Series :
The Easiest Way To learn The Notes
Fingers! – Learning Piano Fingering
The Note Family eBook
I have found this approach to introducing children to music note values highly effective over my years of teaching. As you will see from the posts across this site, I use this approach in a variety of different ways. But one of the most engaging ways is through storytelling. I'm delighted to say that I now have an eBook with a number of the most popular stories that I tell about The Note family and all their adventures in magical music land!
You can check out more about the book below.
[Product id=19905]