New here? Make sure you visit our Introduction to First Piano Lessons before you start!
Up and Down the Escalator  – from the First Piano Lessons is a fun and playful way to introduce finger exercises.
When kids first start to play the piano, it does takes a while to strengthen their little fingers. They'll find it quite difficult at first and it requires practice and patience and lots of repetition to build up the strength and co-ordination needed to use each finger independently.
Start by drawing around the hands of the child on a sheet of paper, or alternatively you can print the finger chart shown below.
Ask the child to number the fingers 1 -5 on both hands starting with the thumbs as 1 and the little fingers as 5.
Explain that when learning piano, we number our fingers to help us tell which ones to use.
Each finger belongs to it's own note and it's own turn at playing.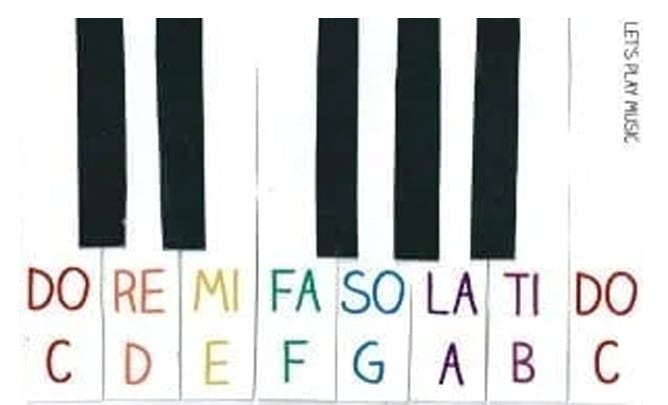 Introducing Piano Fingering
Using the Cats – Dogs game as a way to find middle C, place the Right Hand on CDEFG with the fingers 1- 5.
Ask the child to play each note with each finger and repeat it 3 times.
Call this exercise Up And Down The Escalator and sing the words as they play.
Explain that 4s and 5s are usually weak, because they are normally a bit lazy and never really do anything on their own.
That is why it's always difficult at first, but just like riding a bike or learning to write your name, practise will always help!
Repeat this exercise with the Left Hand, with the 1 (thumb) on middle C and the fingers going down in steps the opposite way.

Finger Strengthening
The fingers should be curved over the notes, as if holding a small ball or apple. This is difficult at first, as weaker fingers will be harder to control.
Make sure each note is released as you play the next. Children often tend to hold two or three notes down through lack of control at first.
Try not to let the hand collapse downwards and rest on the keys. This will need gentle reminders. Reassure that the more you do it the easier it gets!
This exercise can be practiced anywhere, you don't need to be at the piano. You can practise on your leg, in the car, or at the table and you'll find it easy in no time!
When it is getting easier, try balancing a penny on the back of the hand and play it without it sliding off. A little competition always helps!
Once they have mastered each hand separately, try both hands together, both 1s starting on middle C together, then playing both 2s-3s-4s-5s and back again. This is the first time they play anything hands together, so very satisfying! Not bad for a first piano lesson! Sounds good too!
Don't miss the rest of the First Piano Lesson series:
The Easiest Way To Learn The Notes
Check out our First Piano Lessons eBook for lots of fun piano beginner's resources & support!