The Clock Song is an excellent way to learn musical note values. It helps kids to understand and recognise the difference between Minims (or 1/2 notes), Crotchets (1/4 notes) and Quavers (1/8 notes) by making it into a fun game. It's a simple activity that makes the musical concept clear, and the note names and values easy to remember.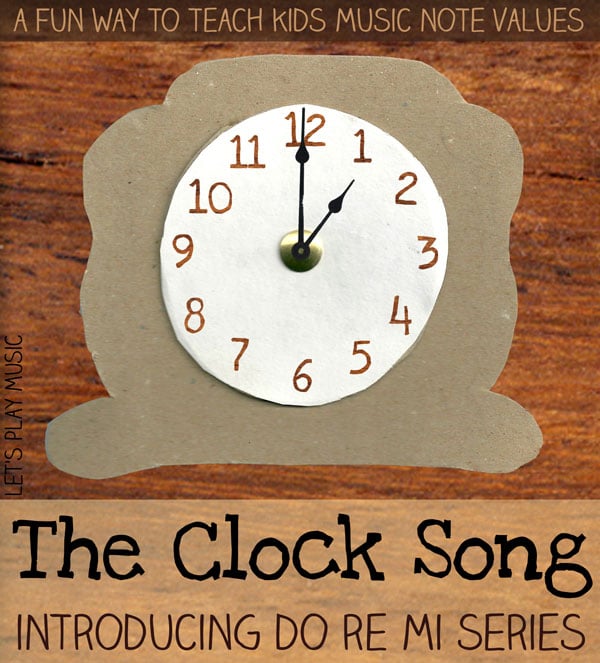 Using the the printable sheet (scroll down and click the picture to download).
First, discuss the three different types of clock shown in the picture.
Then clap and chant the sound that they make together.
Slow, long tick-tocks for the Grandfather clock.
Medium length tick-tocks for the kitchen clock.
Fast, little tick-tocks for the little watch.
Then sing the song together whilst pointing at each clock and demonstrating the tick-tocks with wooden sticks.
Sing the song a few times while you pass the wooden sticks round the circle.
The Clock Song
Grandfather Clock goes
t-i-ck to-ck, ti-ck to-ck, ti-ck to-ck,
Mummy's kitchen clock goes
tick tock tick tock tick tock tick tock,
My little watch goes
tick-tock tick-tock tick-tock tick-tock
tick-tock tick-tock tick-tock tick-tock.
Chime Bar Tune
An Easy Way To learn Musical Note Values
Once they've mastered the song, here's a fun activity.

Blow some magic on your hands and rub it on your feet – a useful way to encourage enthusiastic participation!  

Then you can sing the song while taking steps in time to the tick-tocks.

Big steps for the Grandfather clock.

Medium steps for the kitchen clock.

fFast little steps for the watch.

Using the wooden sticks you can then test them on the note values by playing the three tick-tocks in a different order, and asking them which is which.
If you want to see how The Clock Song fits into a music lesson plans for kids of a variety of ages take a look at my Clocks and Mice lesson plan.
If you are new to music theory, read my Introducing the Note Family post, which explains basic note values in a child friendly way and check out my How To Read Music Made Easy ebook which is accompanied by lots of handy printables and worksheets.
To print the free sheet music for The Clock Song and the free printable work sheet here.