Classical Fun For Toddlers, introduces four famous classical tunes with songs, movement, actions and imagination. The best introduction to the world of Classical music that anyone could hope for.
We all know about the benefits of Classical music for kids and every parent wants to help their child to develop as best they can. It's most effective if you can introduce them to the Classics as early as possible. This can start when they are babies with singing classical lullabies and by playing good music in the home regularly.
But toddlers are a lively bunch! They love to learn through doing, with movement and actions. Activities such as these Classical Fun For Toddlers are always going to have much more impact and become firm favourites. They'll be so keen to sing them that before you know it, your toddler will be humming these famous classic tunes all the time.
A wonderful opportunity for imaginative movement and role play. Who doesn't want to pretend to be a little fairy?
A  simple and relaxing activity to enhance the beauty of the music, which is great for babies too.
A really vigorous one here! For those days when you can never seem to tire them out!
This is such a cute way for little ones to enjoy this catchy tune and guaranteed to get everyone giggling!
The Toreadors Song borrows the tune from Bizet's wonderful opera Carmen. Classical piggy back songs are so easy to pick up and very useful to use for transitions or whenever children need a break from one activity and change the mood with a bit of lively movement.
 People often ask what equipment I use for playing musical excerpts in music lessons. Of course if  you have the original CDs you can play them with a conventional music player using a remote control for stopping and starting.
But these days the easiest way is to play them straight from youtube by using your phone or ipad and some handy bluetooth speakers. Here are two really good choices; I'd recommend the Anker Soundcore for use in an average sized room, but these JBL Flip 4 speakers pack a bit more of punch if you're in a bigger space.
I really hope that you and your little one enjoy singing and playing to these Classical piggyback songs!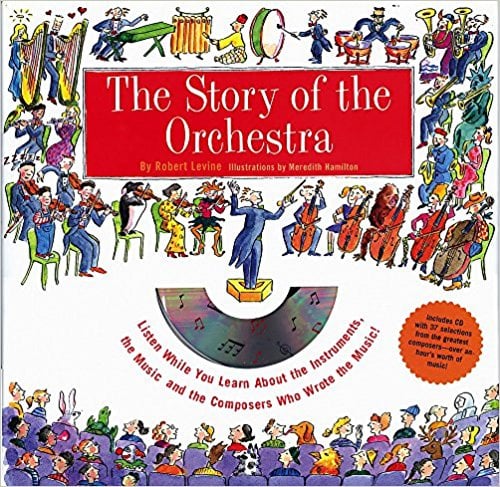 Story of the Orchestra : Listen While You Learn About the Instruments, the Music and the Composers Who Wrote the Music!  This is a great resource for anyone wanting to introduce children to the world of Classical music. Composers and instruments brought to life in a kid friendly way.
If you're interested in additional resources for introducing kids to Classical music, check out the following posts:
Have you seen our weekly lesson plans? Lots of fun, themed musical ideas for structured music lessons for 2 – 7 year olds.