The Toreadors Song borrows the tune from Bizet's wonderful opera Carmen. These fun classical piggy back songs are a brilliant way to introduce famous themes to children with lots of fun and humour – which is always the best way to learn!
The Toreadors Song
Wave you-r hands up i-n the air,  (wave hands in the air)
Then hide your eyes,               (hands to eyes)
Then say a prayer,       (hold hands in prayer)
Now fl-y like little bumble bee,       (flutter pretend wings)
Flu-tter your wings li-ke me!            (continue fluttering)
Now spi-n round and round,        (spin round on the spot)
Down to the ground,                              (down to the ground)
And don't get too dizzy!                 (hold head steady)
The words above fit the tune to the main chorus of the Toreador's song which you can hear at 1.40 on the video below.
Classical piggy back songs are so easy to pick up and very useful to use for transitions or whenever children need a break from one activity and change the mood with a bit of lively movement.
Everyone has such fun with the actions while they're also learning to recognise famous classical tunes – it's such a positive introduction to the classics.
Check out the rest of the Classical Piggy Back Song Series – for more fun songs set to a variety of famous classical theme tunes.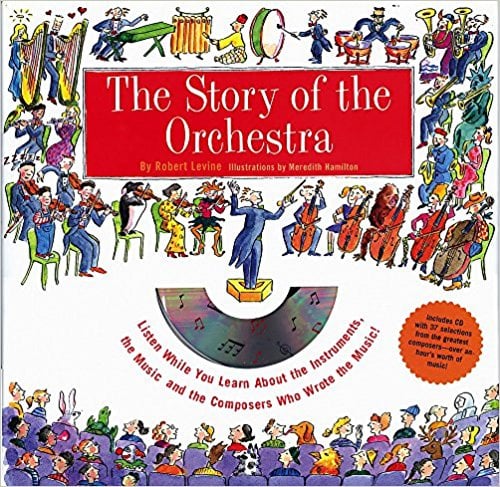 Story of the Orchestra : Listen While You Learn About the Instruments, the Music and the Composers Who Wrote the Music!  This is a great resource for anyone wanting to introduce children to the world of Classical music. Composers and instruments brought to life in a kid friendly way.
Have you seen our weekly lesson plans? Lots of fun, themed musical ideas for structured music lessons for 2 – 7 year olds.