When it comes to choosing classical music tracks for kids to listen to, people often don't know where to start. I have experimented with many tracks over the years and so come armed with plenty of suggestions that have been tried and tested and are guaranteed to go down well. Here is my definitive list of music that gets kids moving, so good as background for crafting or to encourage creativity.
If you're after classical music tracks for kids in order to set a relaxed and calm environment, check out this playlist.
People often ask what equipment I use for playing musical excerpts in music lessons. Of course if  you have the original CDs you can play them with a conventional music player using a remote control for stopping and starting.
But of course these days the easiest way is to play them straight from youtube by using your phone or ipad and some handy bluetooth speakers. Here are two really good choices; I'd recommend the Anker Soundcore for use in an average sized room, but these JBL Flip 4 speakers pack a bit more of punch if you're in a bigger space.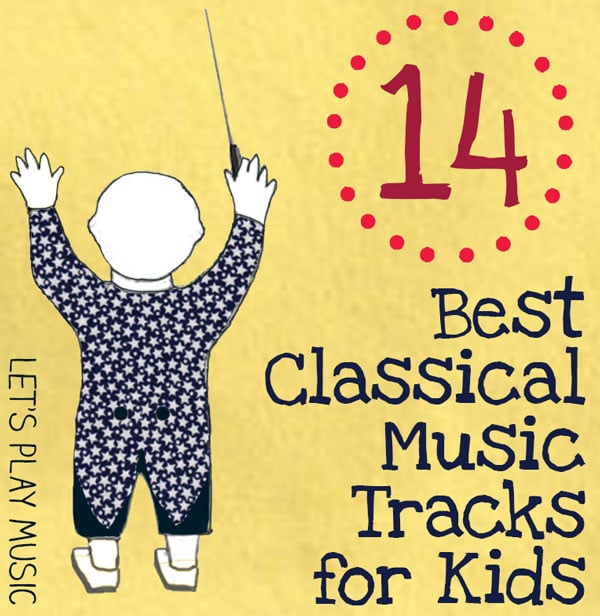 Music has many wonderful uses and it can be chosen to fit any mood or activity.  Children love contrast, so don't be frightened to mix it up a bit. So here are my top 14 classical music tracks for kids, it was supposed to be 10 but I found it difficult to be so restrained! Hopefully it will help get you started…
14 Best Classical Music Tracks For Kids
 Click on the title of the song to download them!
Great for skipping around to and so good for imaginative movement. I use this one a lot as the kids really love it, especially when they are pretending to be little mice running around in the Clocks And Mice lesson plan!
An obvious choice for marching, banging on drums and pretending to be a soldier! Unsurprisingly, this one is hugely popular – I use it my Soldiers Lesson Plan
Who wouldn't want to be a sugar plum fairy or march like a tin soldier!? This one offers great variety- so it's just limited to Christmas but your children might already recognise it if they like the film Elf!  But of course, I do always have to use it in my Christmas Lesson Plan too!
Click here for the music. This is perfect for imaginative movement for slightly older (primary school age) children. Different animals are represented in the music, see if your children can guess which are which!
My new Carnival Of The Animals bundle of resources includes lots of activities that explore dynamics. There's a full set of listening maps along with 72 pages of teaching notes, poems, colouring sheets and activities. And listening maps are a great way to highlight musical dynamics, helping children to connect with the music with a visual interpretation for each movement.​
This old favourite never loses it's appeal and it's always a huge hit in my Bears Lesson Plan. Dancing with your favourite teddy bears to this track is compulsory!
6. Henry Hall Orchestra
Great song which goes with the story of the Three Little Pigs. You can read the story and then sing along to the song!
MORE marching! Particularly good for older children to pretend to conduct to, fantastic for expression and hours of rousing fun!
Similar to the Bizet track above, encourages similar kind of movement, kids just can't resist joining in!
Calming and floaty, group activity of floating scarves, or fantastic calming background music.
Same category as the above, perfect for background to games and other activities.
11. Johann Pachelbel Canon in D
As above – and one most people will recognise!
Another one for marching! Really good one to clap or drum the beat of the music to.
Great for circle games, skipping through arches and budding river dancers!
Story of the Orchestra : Listen While You Learn About the Instruments, the Music and the Composers Who Wrote the Music!  This is a great resource for anyone wanting to introduce children to the world of Classical music. Composers and instruments brought to life in a kid friendly way.
We would love to add to this list. What do you think should go on? Add your/your little ones favourites in the comments below.
For more classical music tracks for kids, check out:
Have you seen our weekly lesson plans? Lots of fun, themed musical ideas for structured music lessons for 2 – 7 year olds.