When it is raining and dreary outside, it can be challenging to keep your kids amused indoors. But there is nothing better than a bit of escapism into the world of fantasy.
All you need is some classical music to play and a bit of clear space. If you have some dressing up clothes, then even better! The possibilities are endless, and children will soon be swept up into an imaginary world where they could be forest fairies or monsters up mountains!
Classical Music is a wonderful source of inspiration and brilliant for developing and expressing emotional responses. Whether it's just played as background music to some craft activities and play, or to encourage dancing and imaginative movement, it's an invaluable resource for anyone with small children.
There is classical music to suit every mood and occasion. It can calm things down, liven things up or fire up the imagination.
Kids love dressing up to help get them into character, so some fairy wings or silk scarves would always go down well! And there is so much classical music to choose from, sometimes it can be difficult (not to mention time consuming) to find just the right track, so here are some suggestions which have been chosen specially to encourage and inspire.
People often ask what equipment I use for playing musical excerpts in music lessons. Of course if you have the original CDs you can play them with a conventional music player using a remote control for stopping and starting.
But these days the easiest way is to play them straight from youtube by using your phone or ipad and some handy bluetooth speakers. Here are two really good choices; I'd recommend the Anker Soundcore for use in an average sized room, but these JBL Flip 4 speakers pack a bit more of punch if you're in a bigger space.
Click on the links below and have a listen. These are my favourites, but really they're just the tip of the iceberg!
5 Best Classical Music Tracks For Fairy Dancing
1. Saint Saens: Aquarium from Carnival of the Animals.
My new Carnival Of The Animals bundle of resources includes lots of activities that explore dynamics. There's a full set of listening maps along with 72 pages of teaching notes, poems, colouring sheets and activities. And listening maps are a great way to highlight musical dynamics, helping children to connect with the music with a visual interpretation for each movement.​
2. Tchaikovsky: Nutcracker Suite – Dance Of The Sugar Plum Fairy.
3. Tchaikovsky: Nutcracker Suite – Waltz Of The Flowers.
(Winter and Spring recommended particularly for imaginative movement, but the whole piece is lovely, especially as a background for craft activities.)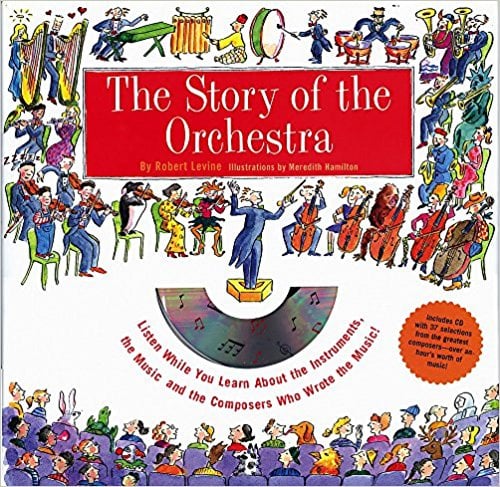 Story of the Orchestra : Listen While You Learn About the Instruments, the Music and the Composers Who Wrote the Music! This is a great resource for anyone wanting to introduce children to the world of Classical music. Composers and instruments brought to life in a kid friendly way.
If you enjoyed this post, come and join us on Facebook, Pinterest and Subscribe for many more musical ideas!