Before you know it, your baby will be a toddler and a whirlwind of energy and enthusiasm. Songs and rhymes are invaluable to calm, entertain and teach them. Singing songs will help your child learn through dances and actions and the opportunity to role play and dress up. This is when they will really benefit from a music group where they will have the opportunity to share the fun and learn to take part in a group.
There are so many good reasons for using music and rhymes with little children, but the most important must be that it is great fun for both of you and that shared enjoyment is a wonderfully bonding, positive experience. There is a limit to the amount of meaningful conversation that is possible with a small child – songs and rhymes provide non-demanding communication and create a happy, relaxed atmosphere in the home.There always seems to be so much media attention on how music can enhance young children's cognitive development – and I have always felt that by becoming too focused upon the potential IQ benefits associated with playing and teaching young children music it is missing the point! Certainly, by developing an early love of music it helps children to develop the skills needed for learning. It increases concentration, confidence, cognitive and memory skills. In other words, it builds a firm foundation for education and as a parent, that is the best thing you can do for your child. But above all else it is fun!
Here is a list of favourite songs for 2-5 year olds including counting, role play, story telling, with plenty of actions and movement all invaluable tools for learning with lots of guaranteed enjoyment!
Songs For 2 – 5 Year Olds
Goldilocks and the Three Bears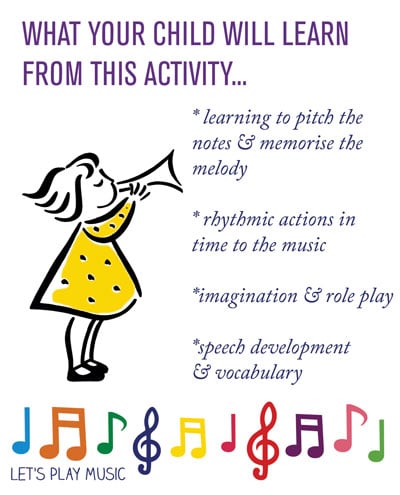 If you enjoyed this post, come and join us on Facebook, Pinterest and Google + or subscribe to our free bi-weekly newsletter for many more musical ideas!
Stay up to date with Let's Play Music!
Receive new post notifications and updates from Let's Play Music straight in your inbox!