Before you know it, your baby will be a toddler and a whirlwind of energy and enthusiasm. You'll soon find that  Songs and rhymes are invaluable for calming, entertaining and teaching them all sorts of things. Singing songs will help your child learn so much, through dancing and actions and the opportunity to role play and dress up. And this is when they'll really benefit from a music group where they'll have the opportunity to share the fun and learn to take part in a group.
There are so many good reasons for using music and rhymes with little children, but the most important must be that it is great fun for both of you and that the shared enjoyment is a wonderfully bonding, positive experience. After all, there is a limit to the amount of meaningful conversation that is possible with a small child – songs and rhymes provide non-demanding communication and create a happy, relaxed atmosphere in the home.
The emphasis nowadays always seems to be on how much music can enhance young children's cognitive development – and I have always felt that by becoming too focused upon the potential IQ benefits associated with playing and teaching young children music it is missing the point!
Certainly, by developing an early love of music it helps children to develop the skills needed for learning. It increases concentration, confidence, cognitive and memory skills. In other words, it builds a firm foundation for education and as a parent, that is the best thing you can do for your child. But above all else it is fun!
Here are my favourite songs for 2-5 year olds including counting, role play, story telling, with plenty of actions and movement all invaluable tools for learning with lots of guaranteed enjoyment!
Songs For 2 – 5 Year Olds
They never seem to get enough of this one! Kids just love all the actions with so much scope for adding all sorts of unusual and exotic passengers on to the bus!
All kids love trains! So whether you just sing this with a collection of toy trains or let the children pretend to be the trains and have them 'chuffing' and 'tooting' all around the room, it's sure to be a huge hit! If you're looking for more activies on the transport theme,  then do check out my Trains & Buses lesson Plan
This one is great for counting practice and a great opportunity for some lovely froggie impersonations! For more related activities, check out my Pond life Lesson plan
Everyone loves a fairy tale, and this song has all the traditional ingredients, with a beautiful princess locked away in a tower and a handsome Prince who comes to save her.
This old favourite is actually fantastic for teaching so many contrasts, and the kids love it!  High, low and middle, Loud, medium and soft, Large, medium sized and tiny –  all in a way that they instantly accept and understand.I use this song in my Bears Lesson Plan for more ideas centred around the 'Bears' theme
This song can just be sung with the traditional actions, but I always use it for some role play where the kids take it in turns to be either Miss Polly or the Doctor and act out the story with the help of a few props. I use this song in my Dollies and Babies Lesson Plan for some more topic related ideas.
This is a great one for rhythm and exploring the sounds and rhythms that the rain makes. Don't forget to check out my Rain Lesson Plan for lots more musical activities about the rain!
Toddlers love this one, as it conjurs delightful images of elephants washing his toes, a giraffe washing his neck and a crcodile brushing his teeth! Obviously a good choice for bath time!
This old favourite has to be the 'go-to' farm song, it's so easy to pick up even for very young children and encourages plenty of raucous animal impersonations.
Such a popular circle game, and great for singing in a group and encouraging everyone to join in.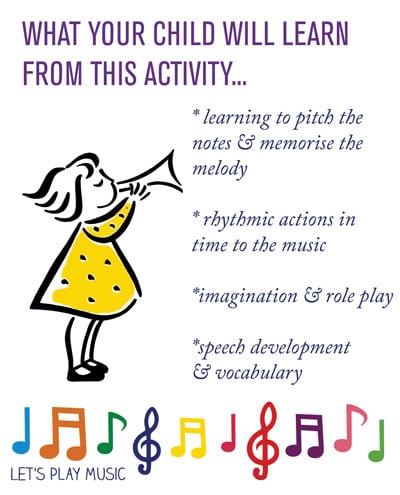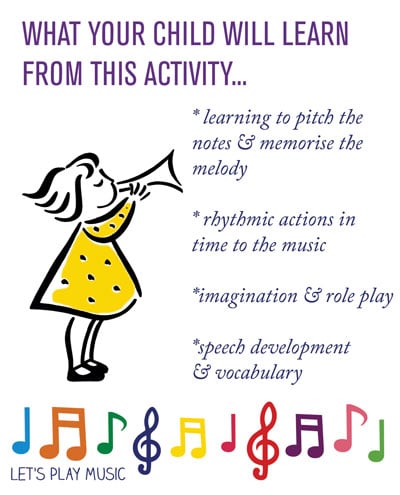 If you enjoyed this post, come and join us on Facebook, Pinterest and subscribe for many more musical ideas!