Down At the Station is one of the great train songs because it combines the passion that many small children have for trains with some useful counting practice at the same time. Here is a great way to bring the song to life – whilst learning some numbers!
Down at the station early in the morning,
See the little puffa trains all in a row,
See the engine driver turn the little handle,
Puff, puff, chuff, chuff, off we go!
*Please note, this post contains affiliate links*
Down at the Station Train Song Activity ideas
Line the trains up, counting as you go. As you sing the song, one train moves off down the track. Ask the children how many are left, and repeat the song in this way until all the trains have gone.
Use fingers to help with the counting as well as an exaggerated action of turning the engine handle, which is lots of fun. Encourage plenty of puffing and chuffing and a few high pitched toot-toots!
Free Sheet Music for Down At The Station (Easy Piano)
To continue the train themed activity, you can play these lovely classic train songs; Puffin Billy and Chattanooga Choo Choo and actually pretend to be the trains. If you have a few children you can get them to link up behind each over, conga style. Choose two people to be a bridge and the others can go through it.
Chattanooga Choo Choo – Glenn Miller Orchestra
If you're looking for more train songs for kids, or classical music for train-loving kids, visit this great post on Classical Train Music from Play Trains!
If you're looking for more transport themed activities, check out our Buses & Trains lesson plan for a 30 minute, structured and lively lesson!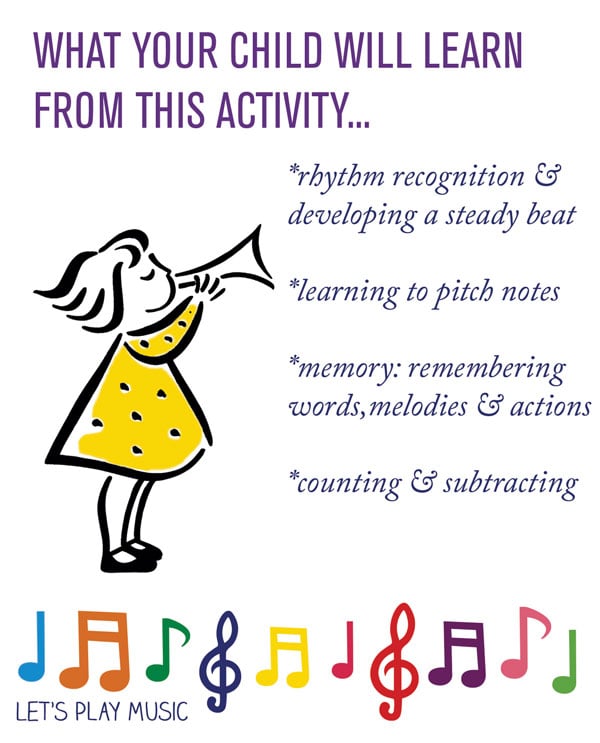 Counting songs are an excellent way to develop early numeracy skills. Check out our Pinterest board full of counting songs here:
Follow Sara @ Let's Play Music's board Counting Songs on Pinterest.


If you enjoyed this post, come and join us on Facebook, Pinterest and subscribe  for many more musical ideas!