Miss Polly Had A Dolly is a great little action song because it encourages imaginative role play, and really gets children engaged with the story. Although it can be sung simply with just the actions and imaginary props, it's always more exciting if you can provide a Dolly, Hat (trilby style ideally) and a little case which looks suitable for a Doctor's bag. You can also include a small notebook and pencil inside for the prescription.
Miss Polly had A Dolly Action Song
Miss Polly had a dolly
Who was sick, sick, sick!

So she phoned for the Doctor,
To come quick, quick, quick!

The Doctor came with bag and his hat,

And he knocked on the door with a
Rat-a – tat – tat!

*
He looked at the dolly,
And he shook his head,
He said "Miss Polly put her straight to bed!"
He wrote on a paper for a pill, pill, pill,
I'll be back in the morning yes I will, will, will!
*
She went to bed,
And she slept all night,
Then she woke up in the morning,
Feeling quite alright!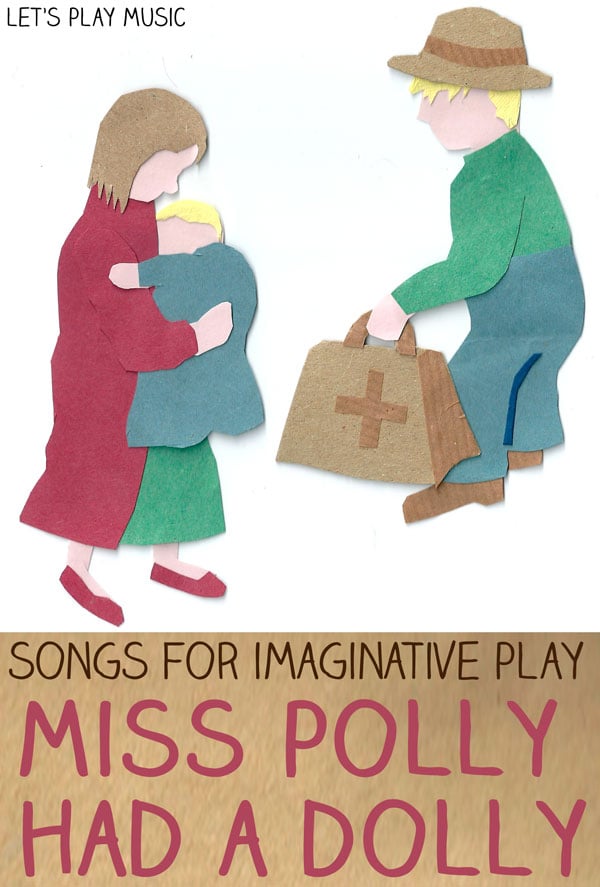 The actions are very simple.
Miss Polly rocks the dolly looking concerned, she mimes telephoning the Doctor.
The Doctor taps his hat and shows his bag, and knocks on the door (or the floor will do!) He looks at the dolly, shakes his head, and wags his finger as he gives his advice to Miss Polly.
Then takes out his notebook and does a little bit of 'writing' to tell Miss Polly what type of medicine the dolly needs.
He waves and leaves.
Miss Polly then looks very happy because the dolly is feeling much better in the morning!
The first time you sing it, it is best for you to be the Doctor to demonstrate the actions and what you have to do, while a child rocks the dolly. Sing it a number of times to give everyone the opportunity to be Miss Polly and the Doctor.
If you have a group of children, give some of them some rhythm sticks or tambourines to tap the beat, and the others sing while they are waiting for their turn. This keeps everyone involved with activity while also practicing rhythm recognition and listening skills.
h
Easy piano sheet music for Miss Polly Had A Dolly action song
Check out our Dollies & Babies lesson plan for a 35 min music lesson with detailed teaching notes and resources and lots of imaginative role play.