Old MacDonald Had A farm just is certainly the the best loved children's farmyard song. It's easy tune and repetitive chorus is often one of the first songs a toddler will begin to sing. And because the catchy 'EE-I-EE-I-O' is so easy to pick it up,  toddlers can join in well before they can manage the rest of the words.
The beauty of this song is that it provides an excellent opportunity to learn and practise all the animal names and the different sounds that they make. Of course, it can be sung in many ways; with pictures or toy animals, and it's always great fun when sung with a selection of glove puppets that the children can interact with.
For slightly older children, it becomes a challenging memory game. Just repeat the list of animal sounds in the same order at the end of each verse. Of course this becomes more and more difficult to remember as each animal is added. And when you've exhausted your repertoire of farmyard noises, don't forget all the other sounds on the farm, like the tractors, diggers and combine harvesters!
Old MacDonald Had a Farm
Old MacDonald had a farm, Ee-I-Ee-I-O,
And on that farm he had a Cow, Ee-I-Ee I-O,
With a MOO MOO here, and a MOO MOO there,
Here a MOO, there a MOO, everywhere a MOO MOO!
Old MacDonald had a farm, Ee-I-Ee-I-O! 
(Repeat with all the different animals and the that sound they make, it can be a long song!)
To print off the teacher accompaniment for Old MacDonald Had a Farm, click on the image below. You can find more farm songs to sing with kids here!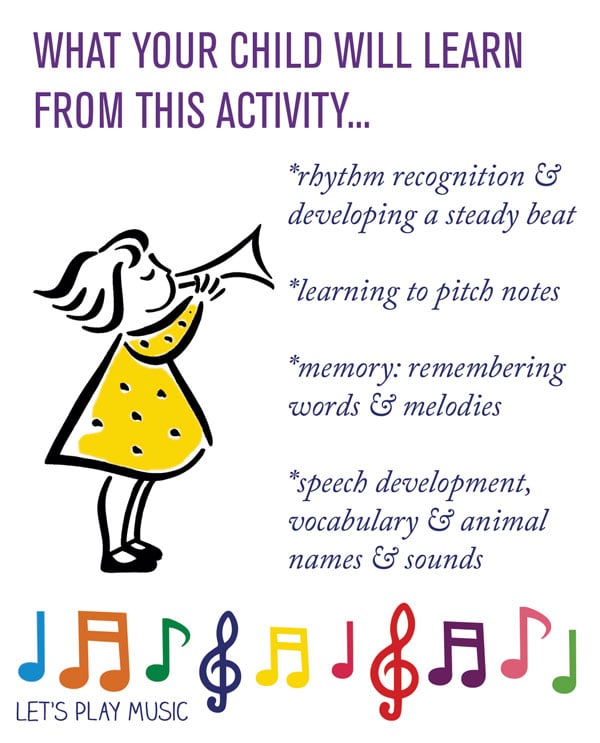 Check out our Farms Lesson Plan for 35 minutes of structured musical activities with plenty of noisy animal impersonations !