The best songs for speech development are the old favourites; traditional nursery rhymes and action songs handed down through the generations. These songs are an easy, fun way to help babies to recognise and imitate new sounds and vocabulary. They are often performed with simple actions or movement that both encourage engagement and develop motor skills and co-ordination at the same time – so these simple songs are really worth including in every day routines and activities.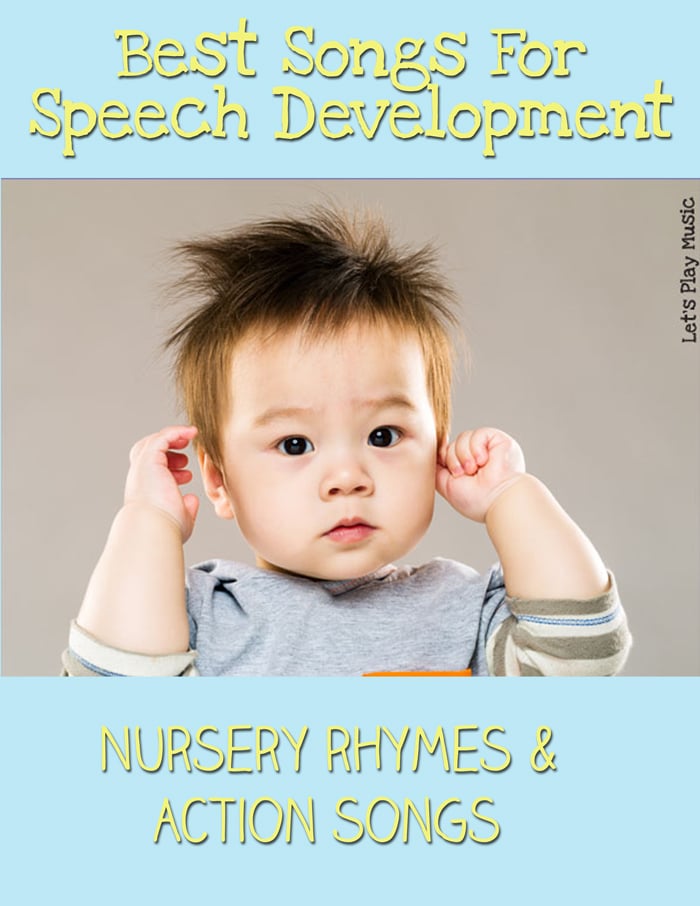 Benefits For Speech Development
Though they often sound like nonsense, they are in fact powerful tools for learning and even the silliest rhymes and songs have a lot to offer.
A toddler friendly way to practice forming speech sounds.
Introducing a wealth of new vocabulary.
Articulation of sounds, vowels and consonants through lots of repetition.
Recognising and matching rhyming words.
Practice with the rhythm of phrases and modulation of tone and delivery through parroting and imitation.
Boosting Early Literacy
In addition to the numerous benefits for speech development, these traditional nursery rhymes provide strong building blocks for early literacy.
It is of course a great advantage, that children have no idea how educational these old favourites are. While they happily recite these silly, catchy rhymes and songs they are also practising and developing:
Story telling skills and comprehension of sequences of events.
Exploring rhyme, rhythm and aliteration
Developing the memory and listening skills.
Using new and challenging vocabulary.
Teaching new concepts and following directions.
Counting skills and early numeracy.
The Benefits Of The Actions
Most of the old favourites have familiar movement or actions to accompany the rhyme or song. Whether it's creeping fingers and thumbs in 'Incy Wincy', stamping feet in The Grand Old Duke or dancing in a circle to Ring-a-Roses and all falling down in a heap at the end – kids always learn more effectively when they process new information alongside physical activity. It strengthens the co-ordination and cognitive abilities needed for brain development check out this post for more details.
The actions also serve as a useful prompt for what is coming next, there-bye strengthening memory skills but most importantly of all, they bring a lot of fun and enjoyment to the proceedings, and kids will always learn so much more when they are having fun!
Best Songs For Speech Development
Everyone will have their own favourite nursery rhymes but below is a list to the most popular ones. Click on the title links to take you to the corresponding post for lyrics, actions and melodies.