Row Row Row Your Boat is one of the first songs a toddler will be able to grasp and always a popular favourite. It's simple tune with lots of repetition is easy for young ones to pick up and you'll find that toddlers will often attempt to sing along, parroting the sounds of the words well before they actually speak.
The rocking, rowing action in pairs is great fun and easy enough for even very little ones to enjoy. But as they get older, kids love singing the verses about the crocodiles and dinosaur and ending up with a fierce roar!
Gross motor movement like this has a very important part to play in music lessons. When kids move to music they are getting so much more than just exercise: they are developing their coordination, balance, concentration and cognitive abilities.
Also, singing songs with a partner is a lovely way for toddlers to grow their confidence and make new friends and these sort of activities are always so much more fun when they are shared together.
These short, simple action songs should be sung as often as possible as an enjoyable way to practise simple rhythmic movement. They are also great for learning to pitch notes as well as developing speech all at once – while having fun at the same time of course!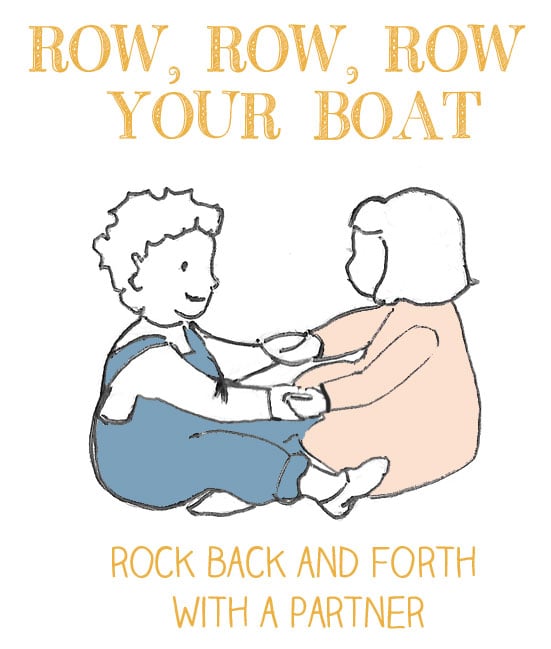 Row row row your boat,
Gently down the stream,
Merrily, merrily, merrily, merrily,
Life is but a dream!
*
Row row row your boat,
Gently down the stream,
If you see a crocodile,
Don't forget to scream!
*
Row row row your boat,
Gently to the shore,
If you see a dinosaur,
Don't forget to roar!!
;
To print the free sheet music – click on the thumbnail: