Old chestnuts are often the best and Incy Wincy or Itsy Bitsy Spider is certainly a firm favourite when it comes to Nursery Rhymes and baby songs.
Singing finger rhymes like this is brilliant practice for speech development and nursery rhymes and baby songs in particular encourage the repetition of shaping vowels and consonants, all whilst having fun!
First Nursery Rhymes : Itsy Bitsy Spider 
Incy Wincy spider climbed up the water spout,
Down came the rain and washed poor Incy out,
Out came the sunshine, and dried up all the rain, so
Incy Wincy spider climbed up the spout again!
**
Incy Wincy spider climbed up on my chair
He climbed up my arm, and then hid in my hair,
He tickled my leg, and tickled my toes,
Then Incy Wincy spider sat on my nose!
(plenty of tickly actions in the 2nd verse!)
*
Incy Wincy Spider (or Itsy Bitsy Spider) has to be the most obvious favourite here – even before toddlers can actually sing the words the lovely actions never fail to have everyone joining in. Babies happily wiggle their fingers upwards as they 'climb up the spout' .  As they get older they can attempt the traditional finger to thumb twisting action that requires a little more dexterity.
Lots of fun can be had by tapping the rhythm on sticks or a drum while you sing or chant the words.
At first, babies will pick out the beat (steady pulse) but once they start to recognise the shape of the words, they'll be tapping along with quite complex rhythms without even realising it.
Itsy Bitsy Spider Puppet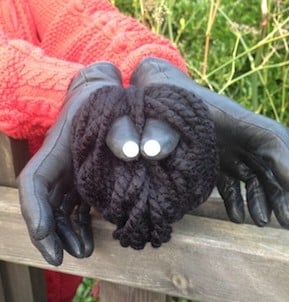 A cheap and easy, but really effective spider puppet can be made by sewing two small white buttons to the thumbs of an old pair of black gloves. Then a ball of black, fluffy wool is used for the body by sticking both thumbs through the middle for the eyes, and the rest of the fingers are the eight legs.
This spider can run and climb and tickle, and everyone is completely convinced that he is real!
If you watch the chime bar tutorial below, older children can have a go at playing Incy Wincy Spider themselves by first just copying the first few notes and gradually building it up as they get more confident.
A lovely story to read about spiders, is Charlotte's Web . My own children adored this book, it has real heart, and Charlotte is one clever spider! You never look at a spiders web in quite the same way after reading it!
Click on the thumbnail below to download the free sheet music for Incy Wincy Spider (easy piano)