Nursery Rhymes are curious things, often with seemingly nonsensical words with no rhyme or reason! Sometimes children do question the meaning, but usually they are just happy to accept the quirky nature and surreal pictures that they paint.
However, in reality they often have quite serious and historical origins, which have been handed down through the generations, often being added to or altered along the way. Humpty Dumpty seems to have had just this treatment.
Humpty's Historical Background
It dates back to the time of the Civil War in England. Humpty Dumpty was the name of a huge cannon that was placed high up on the walled Royalist city of Colchester which was under siege from the Parliament's army in 1648. It took 11 weeks of fire, but the gun finally came tumbling down, and all the kings horses and all the kings men couldn't put Humpty together again!
It later took the imagination of Lewis Carroll (author of Alice and Wonderland) to transform Humpty Dumpty into a large personified egg, which is the image that has stuck for Humpty today! Apologies for the history lesson, but it is so fascinating to understand the meaning and origins of these old rhymes and tales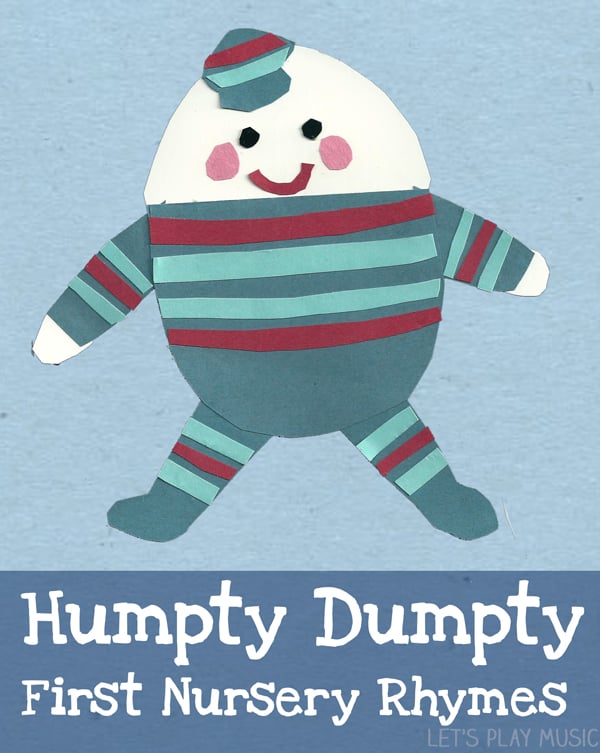 Humpty Dumpty sat on the wall,
Humpty Dumpty had a great fall!
All the King's horses and all the King's men,
Couldn't put Humpty together again!
*
Humpty Dumpty fell on his head,
They picked him up gently and put him to bed,
And all the King's horses and all the King's men,
They put Humpty Dumpty together again!
Playing The Humpty Dumpty Game
Humpty Dumpty is one of the first Nursery rhymes that your baby will learn.
Sing it with a toy Humpty, and they'll be very keen to go and pick him up and comfort him after his big fall.
Sit the toy on a chair a small distance away, and express concern that he might fall off at the end of the song.
The second verse can then be added to give Humpty a happy ending. This always goes down very well, as they all like making him better!
This simple game encourages even very young babies and toddlers to walk over to help him and give him a cuddle. They would happily play it all day if at all possible!
For years I had a lovely handmade Humpty Dumpty, he had so much character, and had been very much loved by lots and lots of children, but I finally had to accept that he had become just too grubby and worn out!
So, I set about making a new one. This is not only quick and easy, but free too, as it's made from up-cycled old baby clothes! A perfect way to reuse that favourite old babygro bringing back those lovely baby memories!
As you can see from the pictures below, it's pretty straightforward and it can be easily hand-sewn together in a couple of hours. This friendly little Humpty is very huggable and he makes a really lovely present, with a little added sentimental value!
How To make an Up-cycled Humpty Dumpty
Materials needed: baby grow, vest, socks & wadding
Cut the arms and legs off the baby grow & sew down the sides of each to form Humpty's arms and legs.
Attach the socks at the end of the feet, and stuff (I used an old cushion for padding.)
Make little rounded mittens from the vest sleeves and attach to the end of the arms. I didn't stuff the arms, as I wanted them to hang down rather than stick out.
Secure the top ends of the legs by gathering them together securely, and make a neat edged seam at the top of each arm.
Using a double thickness, cut a large oval shape. Top half out of the vest, and bottom half out of the baby grow.
Working on the body inside out, sewing up the vest end for the head, and join the top and bottom halves together with a seam around the middle.
Sew across the bottom of the oval between the legs, leaving two openings to insert the legs.
Turn Humpty round the right way and generously fill the body with stuffing.
Insert the pre-stuffed legs into the two openings, and neatly sew up any gaps on either side.
Attach the arms to Humpty's sides.
I used buttons for eyes, and chain stitch of pink, crochet wool sewn into spirals for rosy cheeks and red for the smiley mouth.
Finally, his jaunty little cap was made from the last scraps of baby-gro material.
If you enjoyed this post, come and join us on Facebook & Pinterest!