Ring A Ring O' Roses, is one of the first circle games that children will play together, it is so well known that everyone knows the words and what to do. Like most very old traditional nursery rhymes the original words to Ring A Ring O' Roses have a historical relevance. In this case the song is said to relate to the Black Death. But the second and third verses have been added along the way and are typically random and nonsensical!
Ring A Ring O' Roses Song Words  
Ring A Ring O' Roses        
A Pocket full of posies     
Atishoo! Atishoo!       
We all fall down
*
The cows are in the meadows,
Eating buttercups,
Atishoo! Atishoo!
We all jump up!
*
Fishes in the water,
Fishes in the sea,
We all jump up,
With a 1, 2, 3!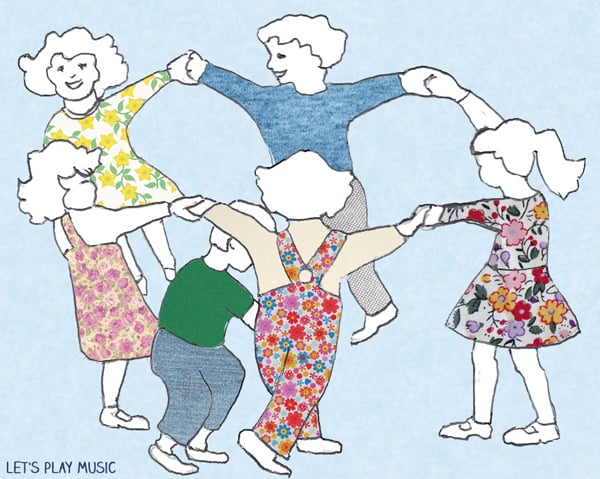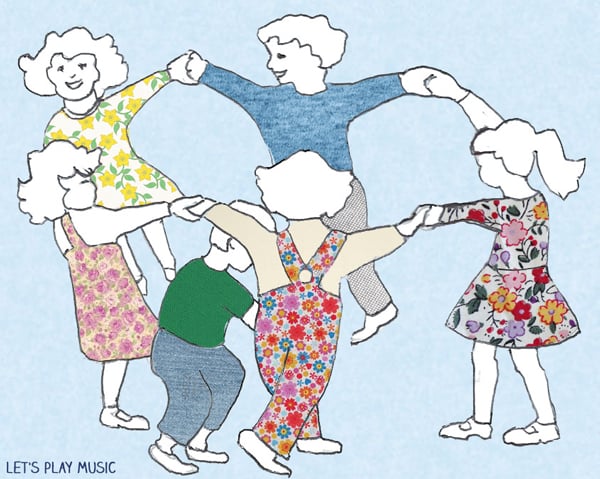 Play Ring A Ring O' Roses as a circle game
Circle games are wonderful for building confidence and making friends. Small children love holding hands and all falling down together and then jumping up again. In the second verse they pretend to pick the buttercups and in the third verse they make pretend fish with their hands. These simple actions even appeal to the youngest children.
The melody is easy to pitch and remember as it is a repetitive pattern of So Mi and La (the same as Cry Baby Bunting). This makes Ring A Ring O Roses a very useful children's song to practice if you are teaching the tonic sol-fah (Do-Re-Mi) degrees of the scale. Ring A Ring O'Roses is great song to sing at any time of the year, but is best in the garden on a sunny day!
If you enjoyed this post, come and join us on Facebook, Pinterest or subscribe to our newsletter for many more musical activities!