One of the best things about Spring is the arrival of all the baby animals. It's the perfect time of year to go and visit a local farm and see all their new arrivals. The kids will love seeing the sheep with their fluffy lambs and mummy pigs nursing their little piglets.
So this collection of 4 farm songs for kids will come in very handy to help teach young children all about what to expect down at the farm. There's a counting song, a circle game and plenty of opportunity for imaginative movement and animal impressions!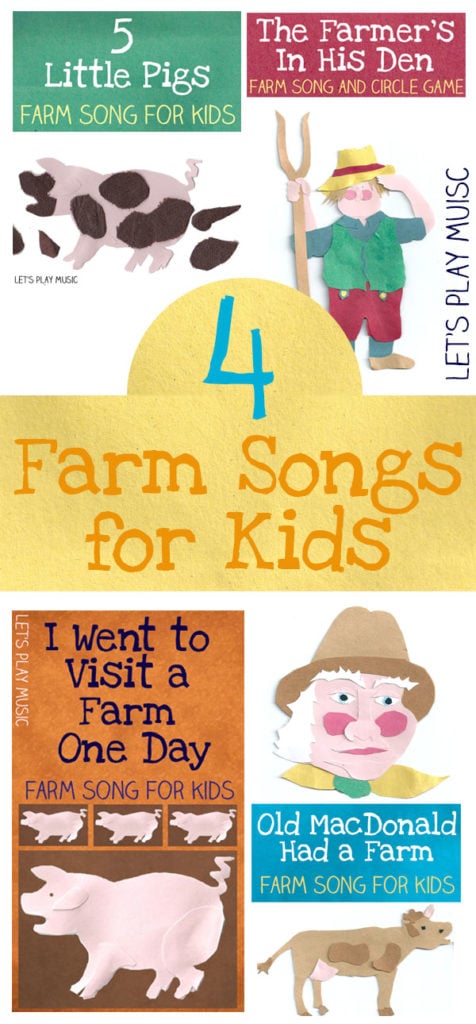 4 Farm Songs For Kids
1.    5 Little Pigs –  Counting song all about naughty piglets playing in the squishy squashy mud!
2.   The Farmer's In His Den – Traditional song and circle game
3.  I Went To Visit A Farm One Day – A noisy song that encourages everyone to join in with the animal noises!
 4.  Old MacDonald had A farm  – Such an old favourite,  everyone loves the EE – I – EE – Os!
It's great fun so sing these songs while playing with toy farms, or puppets, and kids also love to doing some farm animal themed crafts – check out our Spring & Easter activities Pinterest board for lots of ideas!
Check out our Farms Lesson Plan for 35 minutes of structured musical activities with plenty of noisy animal impersonations !
If you enjoyed this post, come and join us on Facebook and Pinterest!