The Scary Witch song and halloween rhythm game from our Songs for Halloween Series is a perfect game to play at a Halloween party. It is both an educational listening game and a bit daring too!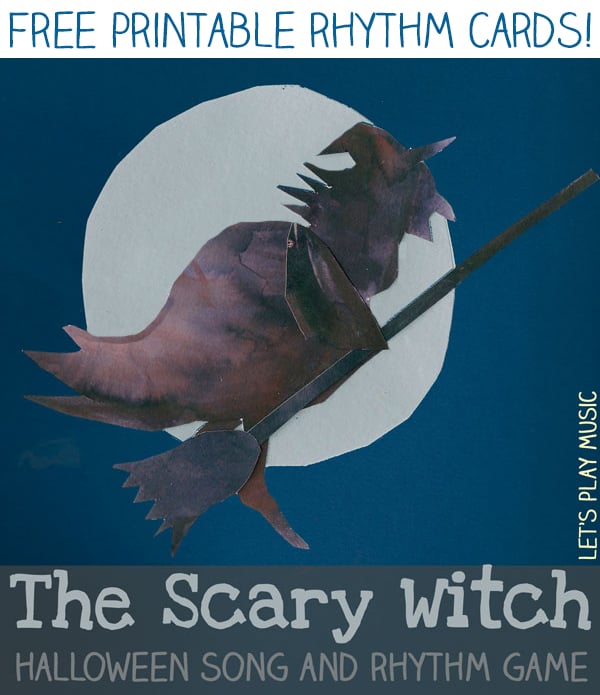 The Scary Witch Song
The scary witch is in her lair,
The scary witch is in her lair,
Who will dare to reach in the bag,
And steal a sound from this old hag?
(sung to the same tune as Mrs Bear Sits on the Chair)
Before playing this halloween rhythm game you need to prepare the free printable rhythm cards. You can print them by
clicking here
or on the image below. Mount the sheet on card and cut it into five strips for each of the different characters. Spend a little time teaching and practicing each character's rhythm, so that the children can recognise which is which.
Younger children may only be able to recognise the rhythms of two or three different characters, but older children can give learning all five a go. So adapt as you go depending on the age of your children, or the class.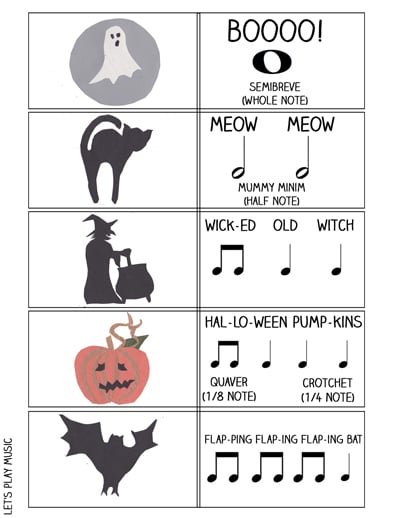 How to Play The Scary Witch Halloween Rhythm Game:
Place the cards in a bag with some tone blocks or a tambourine, on the floor behind a stool or chair. One child is chosen to be the witch, and sits on the chair at other end of the room.

The rest of the children then take it in turns to be brave enough to creep up on the witch. When they are close enough, they reach in the bag and pick a card, then they tap the rhythm.

The witch listens carefully, without turning around. If she identifies the character/rhythm correctly, then she can turn around and try to catch the child.

The child has to run back across to the "safe" side of the room, without getting caught. If they do get caught, then they will be the next witch.
It is a rather familiar game, similar to What's The Time Mr Wolf, but with some musical listening and a Halloween twist!
If you're after more Rhythm games and activities for kids, check our our Pinterest board below and also take a look at our Halloween Rhythm Board Game – a great way to learn a lot whilst having fun.
If you are new to music theory, read my Introducing the Note Family post, which explains basic note values in a child friendly way and check out my How To Read Music Made Easy ebook which is accompanied by lots of handy printables and worksheets.
For some more Halloween inspiration, check out our Halloween lesson plan for 30 minutes of musical, spooky fun in a structured lesson. And If you're a preschool music teacher or homeschooler? You might find my new music lesson plan series useful!
Follow Sara @ Let's Play Music's board Rhythm Games & Activities on Pinterest.