Mrs Bear Sits On The Chair is the same song as the Baby Bear rhythm and listening game, but you develop the listening skills further by practising a rhythmic response. Instead of just three instruments you can add another one to make it more challenging. You then need to choose three or four different things to represent a rhythm, such as a toy spider for 'Incy-wincy-Spider', a star for 'Twinkle Twinkle' or a little mouse for 'Hickory Dickory Dock'.
Mrs Bear sits on the chair,
Mrs Bear sits on the chair,
Who will dare, now who will dare?
To steal a sound from Mrs Bear?
While Mrs Bear has her back turned or is closing her eyes, you choose an instrument and tap just the first line of one of the rhythms. Mrs Bear then turns around and has to identify which instrument and which toy, first by pointing, and then by copying the rhythm with the correct instrument. If you demonstrate the rhythms first, and explain that it is a guessing game, children soon get the idea and love playing it over and over taking it in turns to be Mrs Bear.
The sheet music for Mrs Bear can be printed by clicking the picture below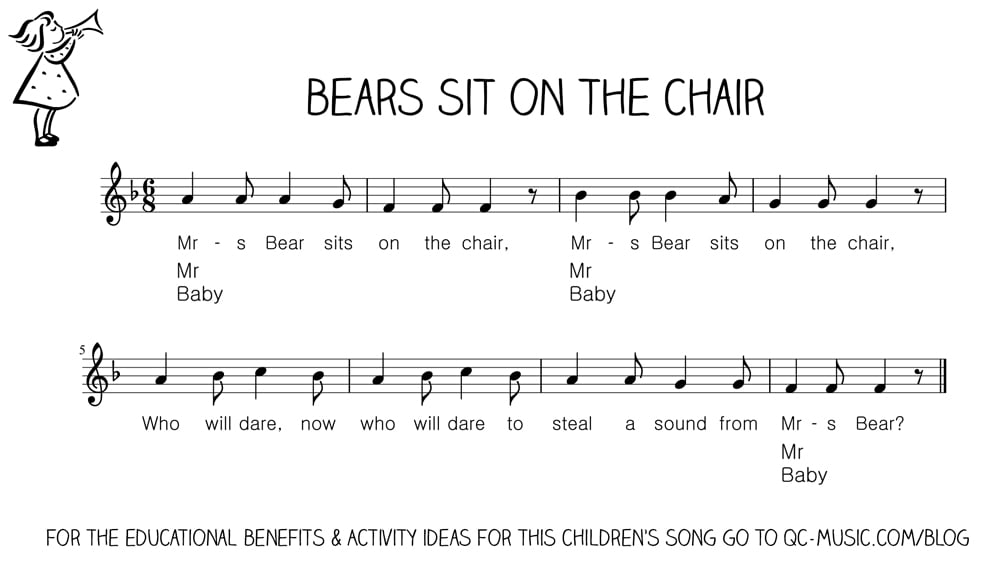 Check out our Bears lesson plan for lots more lovely teddy-bear themed activities combined in a 30 min structured lesson, with step by step teaching notes and supporting resources.
Follow Sara @ Let's Play Music's board Listening Games on Pinterest.


If you enjoyed this post, come and join us on Facebook, Pinterest and Subscribe for many more musical ideas!
Get musical inspiration into your inbox!
Receive updates from Let's Play Music straight into your inbox!