Baby Bear Sits On The Chair Listening Game is the easiest version of this simple listening game. So it's great for even very little ones because all they have to do is listen carefully and match the sounds.
The child who is Baby Bear, sits on a chair or stool.
Place three different instruments in front of the child (eg.  a triangle, maraca and some wooden sticks.)
You should also have the same three instruments, and sit behind Baby Bear. If you don't have a double set of instruments, then just use the same ones and ask the Baby Bear to close his eyes.
After you have sung the song you then shake or tap one of the instruments.
Then ask the Baby Bear to copy the sound and identify the instrument that they heard.
*
Baby Bear sits on the chair,
Baby Bear sits on the chair,
Who will dare , now who will dare?
To steal a sound from Baby bear?
*
It is a very simple game and toddlers are very keen to show you how good they are at recognising the different sounds. When they are ready for something a bit more challenging, you can move on to Mrs Bear Sits On The Chair.
Click on the picture for the Baby Bear Sits On the Chair sheet music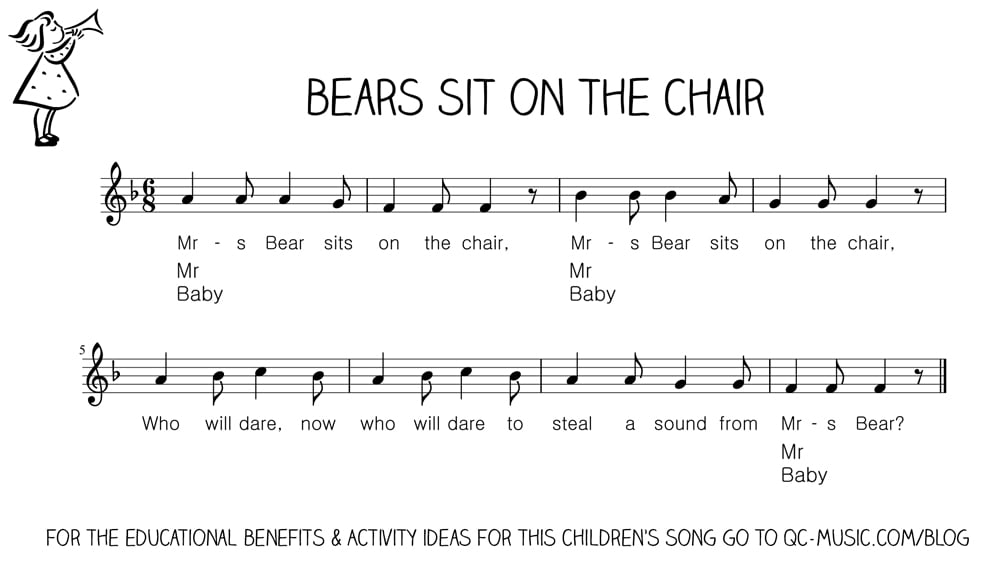 Check out our Bears lesson plan for lots more lovely teddy-bear themed activities combined in a 30 min structured lesson, with step by step teaching notes and supporting resources.