Mr Bear Sits On The Chair is a more challenging listening game and is aimed at children of 4 years old +. For toddlers (approx 2 years old ) try the Baby Bear Game, and  for preschool age (3-4 years approx) try the Mrs Bear game. However these are only suggested ages, and all children will enjoy playing all three games, although it is probably best to start with the easiest first.
*
Mr Bear sits on the chair,
Mr Bear sits on the chair,
Who will dare, now who will dare?
To steal a sound from Mr Bear?
How To Play The Mr Bear Rhythm And Listening Game
With Mr Bear Sits On The Chair, the game develops a stage further and to play this you need a xylophone or some chime bars. See Introducing Do-Re-Mi to help your children understand and learn the names and degrees of the solfege scale.
When you first play the game, you should start by choosing just two notes i.e So-Mi or So-Do and play these notes while 'Mr Bear' is listening with his back to you.
When he turns around, he has to identify which notes you have played. This is tricky at first, and don't expect them to get it right first time, but encourage lots of goes –  it is amazing how quickly children start to really listen and learn to match the sounds of the notes.
Once this becomes easy you can add another note or two until you can actually play the first bit of a simple song eg. Three Blind Mice or Twinkle Twinkle.
With a little practise, you will find that children can easily recognise the different tunes as you play them. The child who is Mr Bear can then try to identify the song and attempt to play a bit of it. Again, don't worry about the mistakes, just encourage lots of goes as this is all part of the game!
For the sheet music to Mr Bear click on the picture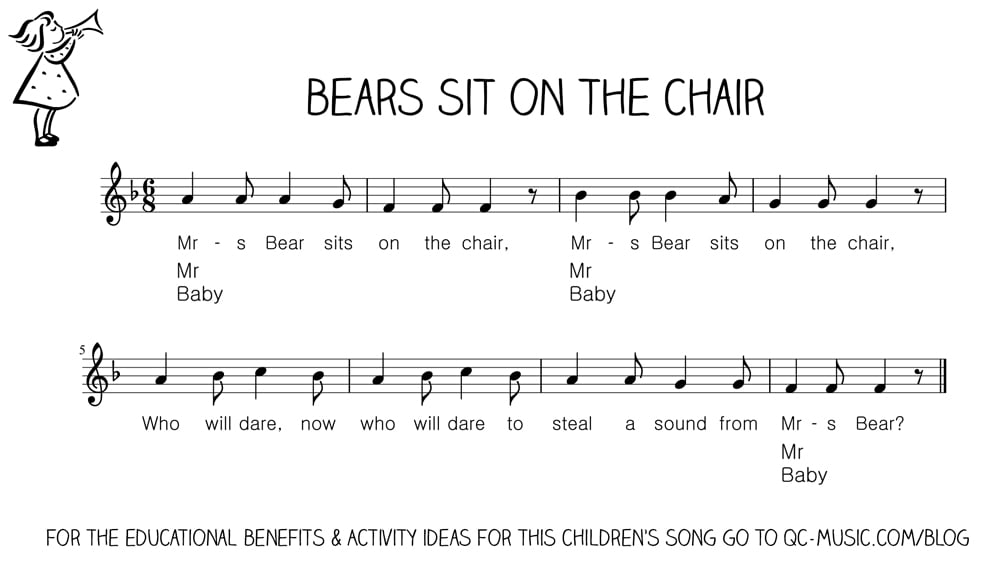 Check out our Bears lesson plan for lots more lovely teddy-bear themed activities combined in a 30 min structured lesson, with step by step teaching notes and supporting resources.