Pussycat Pussycat Where have you been? Is a traditional old English nursery rhyme, which is set in London and describes how a cheeky pussycat goes to visit The Queen, but gets distracted by a little mouse under a chair!
Pussycat pussycat where have you been?
I've been up to London to visit the Queen!
Pussycat pussycat what did you there?
I frightened a little mouse under the chair!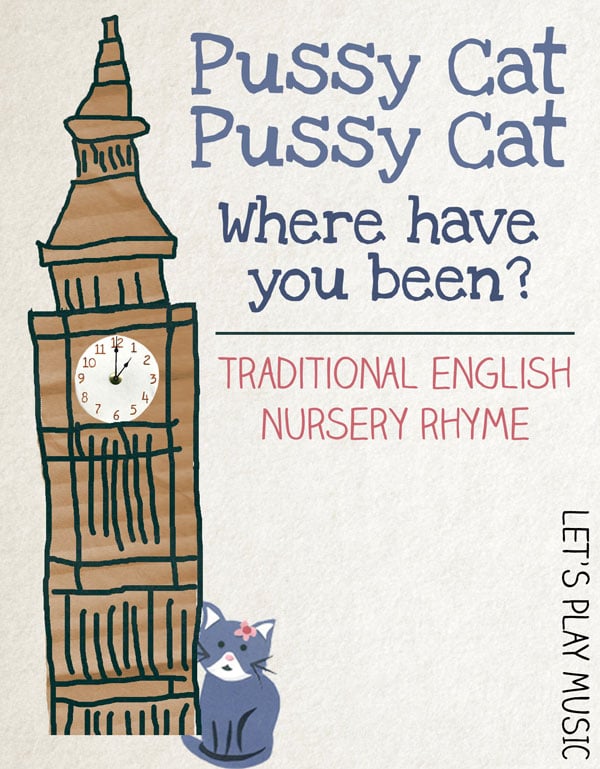 When you sing this song, you can either use props for the cat and the mouse, or the children can actually do the role play, and the song turns into a game of hide and seek!
For babies from 6 months – 2 years 
use a cat and a mouse puppet or toy. One child hides the mouse, while the other one helps the cat to find it again. You can make this as easy or as difficult as you like,  helping them and making it quite obvious, or making it a bit more challenging once they've got the idea.
For 2 – 3 year olds, you can encourage them to pretend to be the little mouse, and hide, while the 'pussycat' comes to find them. This would then lead very nicely to a game of Creep Mousey Creep!
For older children, you can play a question and answer rhythm game, where one child taps the first line "Pussycat, pussycat, where have you been?" on a tone block and then passes the tone block on, and the next child taps the answer "I've been up to London to visit the Queen!"
If this song has gone down well,  why not try out some our other pussycat themed songs and games? Pussycat Do Re Mi Game,  The Three Little Kittens and if you need a cat prop – check out How To Make A Cat Puppet
Check out our Pussycats Lesson Plan for 30 minute of fun musical activities perfect for cat lovers!
If you enjoyed this post, come and join us on Facebook, Pinterest and  subscribe for many more musical ideas!