Children can find music rests rather daunting. They have only just learnt to recognise musical notes and their values and suddenly there are even more signs and numbers to grasp!  So here is an easy way to teach kids rests in order to help them recognise and understand them in an easy and approachable way.
This easy way to teach kids rests is a kid friendly, visual memory trigger to help tell the different rests from one another.  It is always important of course to teach the correct rest names and appearances alongside their nick-names, so make sure children understand that this is your own special way of helping them to remember.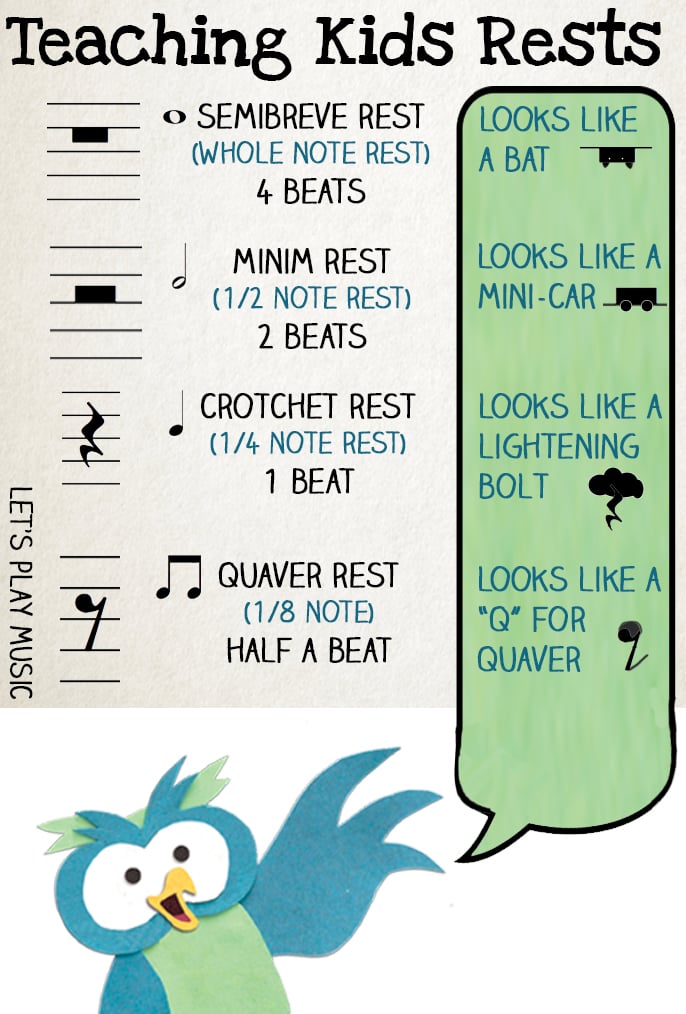 Teaching Kids Rests
When you start the lesson explain that when you make music together it is not only the sound that you make that matters, but also the silence in between the notes. For without the breaks in the sound there would be no shape or pattern to the music. Explain that each note has its own rest of the same time value, so that you know how long it should last.
Using the Teaching Kids Rests infographic above, talk the kids through each note, time value and the rest that belongs to to it. Remark on what they think it looks like, and discuss why. If the child is keen, they can try to draw some of their own. This will help them to both recognise and understand the concept.
Easy Way To Teach Kids Rests Guessing Game
Once they are familiar with each sign and the time value, you can play a guessing game. The information on the infographic is divided into three columns, rests, time values and nicknames. Use a piece of card to hide a column at a time and ask if they can remember what is hidden underneath.  Prompt them with questions like "Which note is worth 2 beats?"  and "Which rest looks like lightening?" Move along each column asking different questions to help them remember which rest belongs to which note, and what is hiding under the card.
This is a simple memory prompt and recall game, but I have always found it very effective – and once learned it really sticks! Even slightly older pupils find it a quick and easy way to grasp rests and are quite happy to spot the difference between a 'bat' and a 'mini-car'!
If you enjoyed this post, come and join us on Facebook, Pinterest and Google + or subscribe to our free bi-weekly newsletter for many more musical ideas!