With spring on the way, this 5 Little Bunnies finger rhyme and puppet craft is just the thing to get everyone in mood for Easter.
5 Little Bunnies Finger Rhyme
Five little bunnies hopping on the floor,       (hopping action)
One hopped away,                   (hop fingers on floor)
And then there were four!        (take one bunny puppet away)
*
Four little bunnies hid behind a tree,       (hide face in hands)
One climbed up,          (climbing action with hands)
And then there were three!      (take one bunny puppet away)
*
Three little bunnies wondered what to do?      (tap head as if to think hard)
One went to sleep,                             (pretend to sleep)
And then there were two!           (take one bunny puppet away)
*
Two little bunnies went to have some fun,         (the last two puppets jump up and down)
One hopped down a hole,        (make a diving action with hand)     
And then there was one!                       (take one bunny away)
*
One little bunny paddling in the sea,    (make last little bunny hop up and down)
I went and picked him up,              (pick the bunny up)      
 And he came home with me!               (cradle him in your arms)
(sung to the same tune as Six Brown Eggs In A Nest Of Hay)
This 5 Little Bunnies song could be sung in several different ways depending on where you are and the props that you have available.
If you have some little bunny toys or puppets or some felt bunnies and a felt board, then they would be perfect.
If you have the time for some crafts then check out our Spring Into Easter & All Kinds Of Puppets Pinterest boards for some simple ideas.
Our free printable finger puppets are very quick and easy, just print onto card, cut out and off you go! Click here to print some finger puppets in colour, and here for black and white versions for kids to colour in.
But If you are in the car or on the move then just plain fingers will be just fine – children love using their imaginations!
Follow Sara @ Let's Play Music's board All Kinds of Puppets on Pinterest.
5 Little Bunnies Free Printable Finger Puppets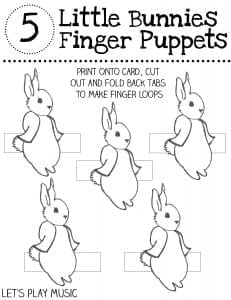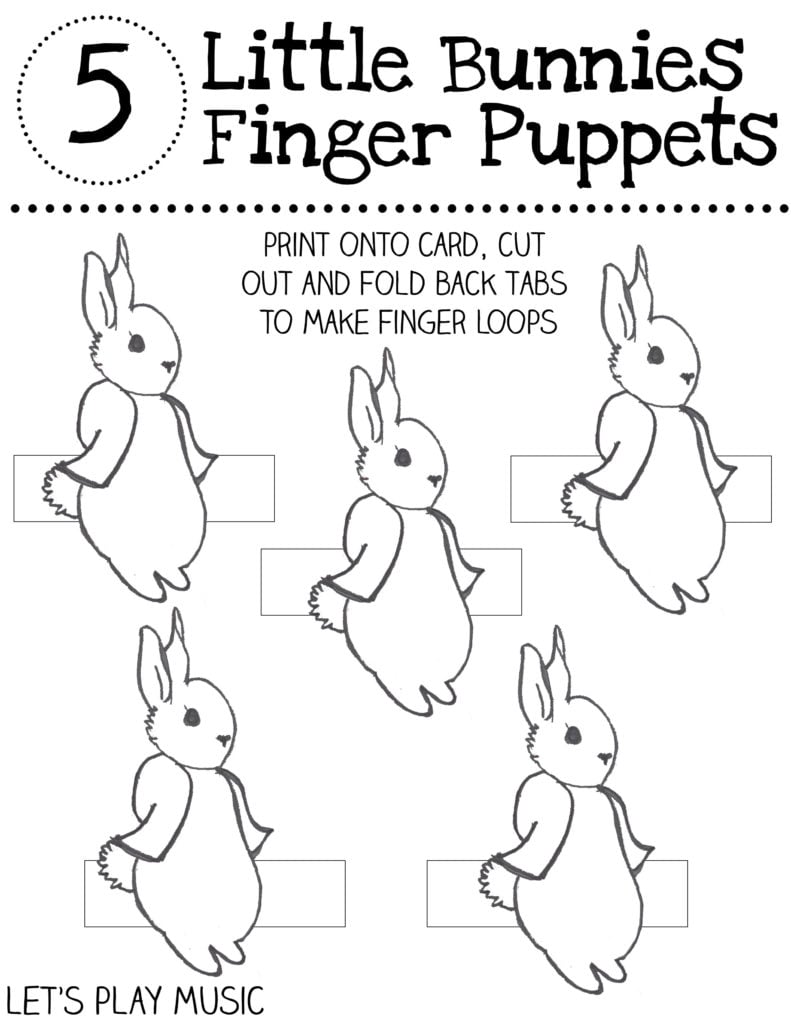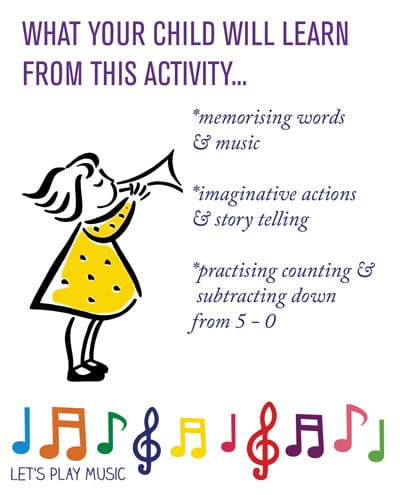 Check out our Spring Lesson Plan for a 35 min structured music lesson full of fun Spring themed ideas or our Easter Lesson Plan for plenty of bunnies and hot cross buns!
.
If you enjoyed this post, come and join us on Facebook & Pinterest!