The lines of the Stave and Clefs look a lot more daunting than they really are. They are just a way to express whether the notes are high or low or in the middle. They are of course part of the language of music.  At first it seems foreign – but once they are familiar you just accept them as quite normal.
Easy Music Theory : The Grand Stave
The best way to understand how written music relates to how the notes actually sound is at the piano or keyboard.  Find and identify the notes using the printable below (click the image to download, or click here). Each line and space relates to a note on the keyboard.  One step (semitone) up or down on the Stave is one step up or down on the keyboard.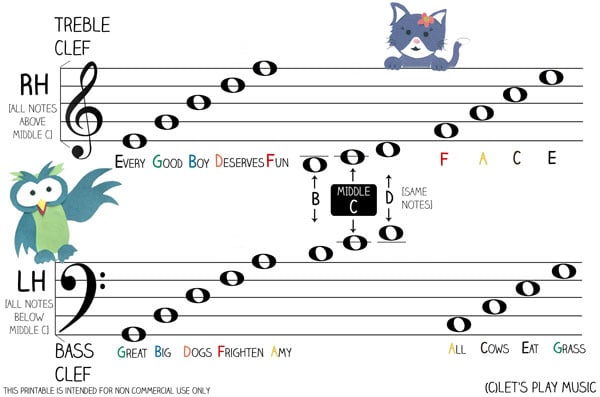 The Stave is the five lines which the notes are written on and between these five lines there are four spaces. There are two Staves (known as The Grand Stave) one above the other. Sometimes they're also referred to as the Staff, depending on where you are in the world! The top one has a Treble Clef, which indicates that all the notes are above middle C (right hand on piano). The lower one has the Bass Clef, indicating all the notes are lower than middle C (left hand on the piano).
There are also three notes that belong in between the two Staves. Middle C (which has it's own little line through it)  the D which lies above it, and the B which lies below. These three notes can be written either at the top of the bass clef stave, or the bottom of the treble clef stave, depending which hand should be playing the note.
Music Note Mnemonic
To help remember which notes are on which lines and spaces, there are some useful rhymes as listed on the sheet above. Print off the sheet and either stick it at the front of your piano book, or mount it onto card. It will become a good friend, expect to refer to it at every lesson. These rhymes alongside all the other exercises help with recall and recognition. Gradually you will find you no longer have to work out the notes, but simply know what they are by recognising them. A very satisfying achievement!
For more help with learning to read music check out How To Read Music Made Easy
 Have you seen our Music Theory eBook Bundle?  It's packed with fun resources for learning to read music!
There are tons of great music note mnemonics around – if you have one that your piano pupils find useful, we would love you to come and share it over on our Facebook page!
If you enjoyed this post, come and join us on Facebook, Pinterest and subscribe to our newsletter for many more musical ideas!
Get musical inspiration into your inbox!
Receive updates from Let's Play Music straight into your inbox!