This is My Garden is perfect for the spring and summer and may just inspire a budding little gardener too! Check out the video at the bottom of this post for how to sing and the finger rhyme actions too.
Finger rhymes are an excellent learning tool for small children, they are so good for speech development and fine motor skills and wonderful for the imagination too.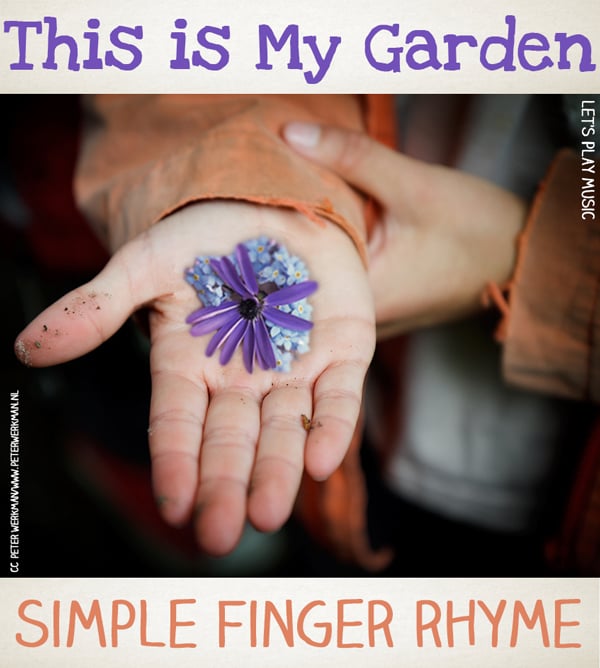 This is My Garden : Finger Rhyme Song
This is my garden,
(extend palm of hand facing up)
I'll rake it with care,
(rake palm with 3 fingers of the other hand)
And then some flower seeds,
(plant pretend seeds on palm)
I'll plant there.
The sun will shine,
(circular action with other hand)
And the rain will fall,
(fingers flutter down)
And my garden will blossom,
And grow straight and tall.
(cup hands and 'grow' fingers upwards like flowers)
(sing to the tune of Twinkle Twinkle)
If you're looking for more songs about the garden to sing with your kids at home or in the classroom,  this 
old favourite Oats and Beans and Barley Grows
 is a great action song and circle game and there are more garden themed songs in
Summer Garden Songs
The little poem below is particularly appropriate and I had to include it because the little girl is adorable!
We also have the
Summer Lesson Plan
– 35 minutes of summery outdoors, musical fun and games!
Checkout our store for more details. 
If you enjoyed this post, come and join us on Facebook, Pinterest or subscribe  for many more musical ideas!
Get musical inspiration into your inbox!
Receive updates from Let's Play Music straight into your inbox!