You can play Sally Go Round The Sun Ring Game in two different ways.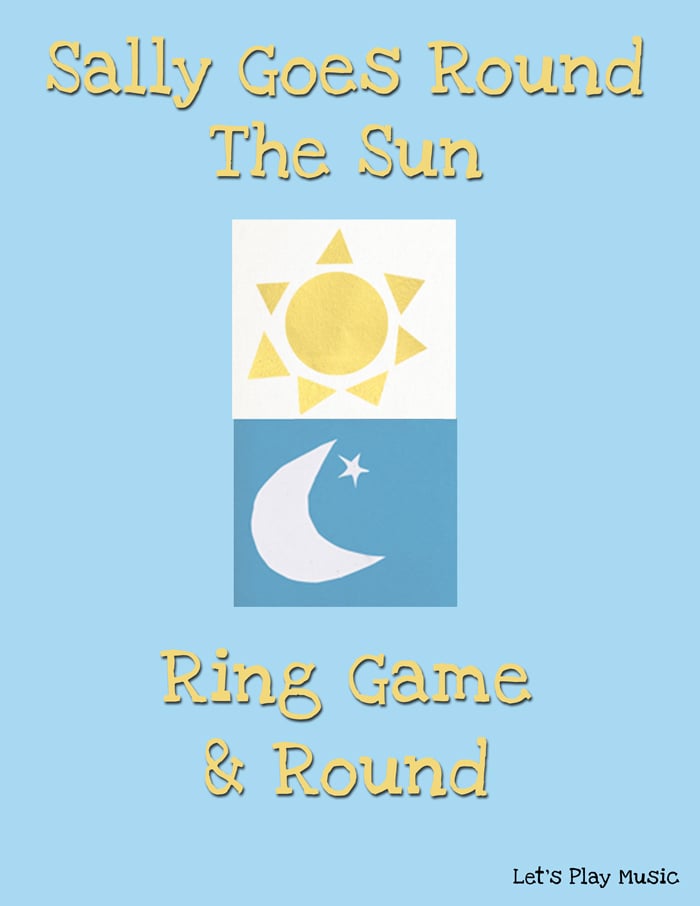 The first version is a great way to practice the days of the week.
Sally go round the sun,
Sally go round the moon,
Sally go round the chimney pots on a Sunday afternoon.
(repeat this verse for each day of the week)
How To Play The Ring Game
Everyone sits in a circle with a small space in between each person.                                                                                                                                        Choose one child to be the sun and one to be the moon, and they sit in the middle of the ring.
Choose another child to be 'sally' and if you like, you can substitute each child's name in turn as everyone has their go. Sally gets up, goes round the 'sun' and the 'moon' and then weaves in and out of the seated children (chimney pots) until she gets back to her original place.                                                 Repeat the game until everyone has had a go, changing the name and the day of the week each time. Younger children still love to have a go, holding hands with an older child or adult.
If you have enough children to make it through the whole week, on the last verse you can finish like this;
We all went round the sun,
We all went round the moon,    
We all went round the chimney pots,
On a Sunday,  Monday,  Tuesday,  Wednesday,  Thursday,  Friday, Saturday – back to Sunday afternoon!
Print Sally Go Round The Sun Here!
This sheet music is how we sing in the UK, which is very similar to 'Here We Go Looby-Loo' see the chime bar clip below.
Alternatively, a shorter and simpler way to play this game can be seen in the video below. The kids really love the Whoop! as they do an 'about turn' jump for the change in direction.
This simpler version also works well sung in a round too, as demonstrated so beautifully by the kids in the video below.