Kids do love a good old-fashioned chasing game and Please Mr Crocodile ticks all the boxes!
Although they will never miss the chance to dash about, these sort of activities offer kids much more than just letting off a bit of steam. It's a really fun way to practice note recognition and develop gross motor skills but it's also great for team building and boosting confidence too.
Plus, the idea of running away from a scary crocodile with lots of squeals is always irresistible! It's permission for a bit of controlled chaos, which never fails to cause great excitement!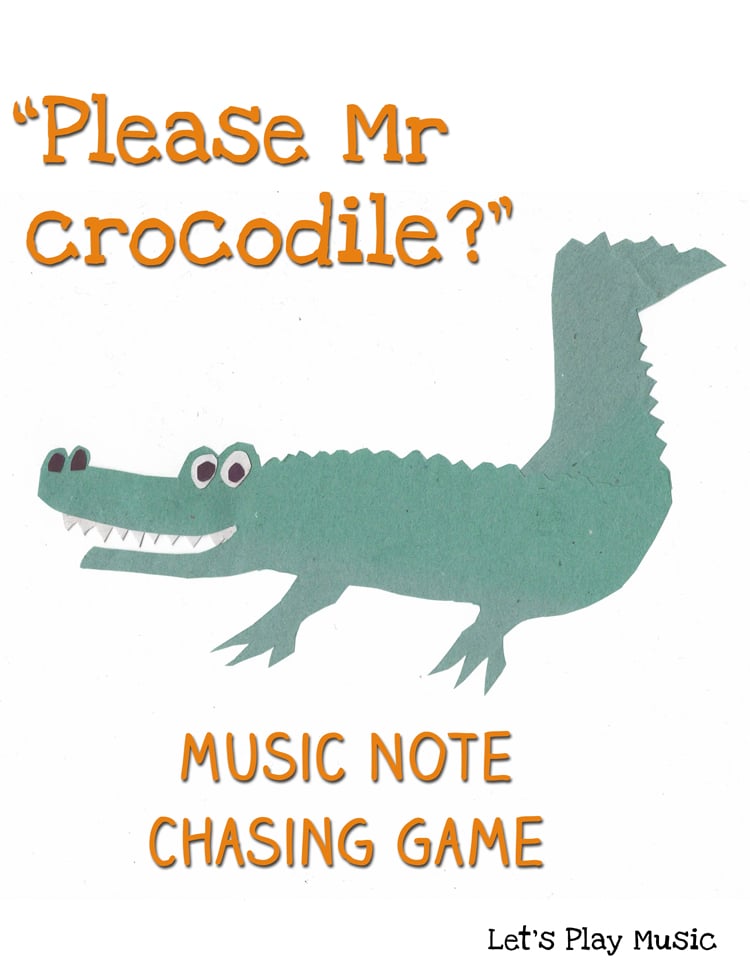 In the original version of this game, Mr Crocodile chooses who shall pass according to what colour clothes they're wearing, but to give the game a more musical twist, I've introduced an element of note recognition with these Mr Crocodile music note flashcards.
But if you're planning lessons, it's a good idea to include this sort of activity towards the end of the class, a lively game like this is the perfect reward after they've been concentrating and trying hard.  Then you could finish off with a quieter absorbing activity like The Treasure Game to calm things down again.
This game also goes down well at parties as it doesn't need any special equipment other than a bit of space and it's a great way to get everyone joining in.
Here's the chant…
Please Mr Crocodile,
May we cross the water,
To see your scary daughter,
Floating on the water,   
Doing what she ought'a
                                                                                                                                                                                      (sing to the tune of 'Ring a Ring a Roses' so-mi-la-so-mi) 
How To Play Please Mr Crocodile Chasing Game
Print the Mr Crocodile flashcards here!

Give the children a music note flashcard each, and then line they up on one side of the space and sing the short song to the 'crocodile'

The crocodile then chooses and calls out just one type of note – Daddy whole note, Mummy half note,

 

Big brother quarter note, or Little eighth note twins.

 

The child or children who have the chosen note, can then pass across, but anyone who doesn't have that particular note has to try to rush or sneak past the 'crocodile' to the other side.

The first person he catches will be the next 'crocodile'
This youtube video shows children in their English class playing a similar game, so they're speaking the words instead of singing.