Cardboard is a fantastic resource for crafting with kids; easily available, free and it offers endless possibilities! This homemade puppet theatre tutorial is the perfect activity for a rainy afternoon, or it could be a surprise project for a wonderful present complete with a different sets of fairy tale characters.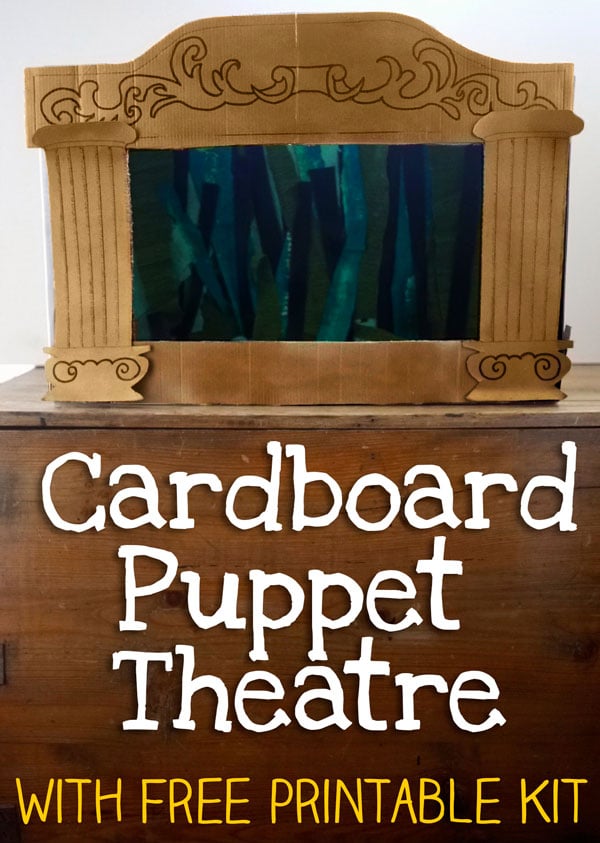 How to make a Homemade Puppet Theatre
What you need
A rectangular cardboard box, the one we have used is around (W) 55cm x (L) 35cm x (D) 20cm
A large piece of card to mount the free printable puppet theatre façade
Green tissue paper for the backdrop
1. Cut a rectangular hole in front of the box, make sure that it is centred with equal distance from the edge of the box as this will be the front of your theatre.
2. Cut a opening in either side of the box, around 5cm in width and 20cm in length, big enough to fit the puppets through – these will be the equivalent of your wings.
3. Cut a hole in the top of the box around 40cm in length and 10cm in width which can again be used for controlling the puppets or scenery inside the theatre.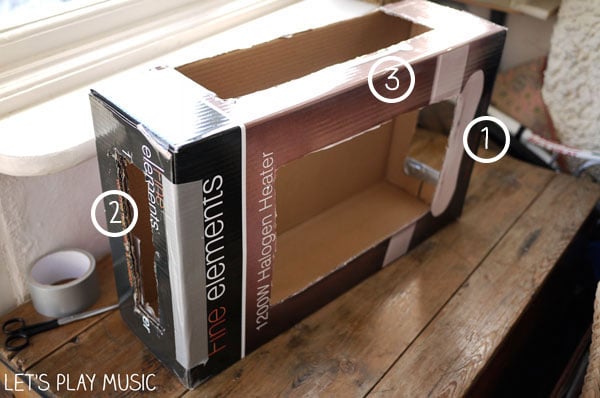 4. Print off the puppet theatre façade, cut out and mount onto card. Stick onto the front of your box.
5. Rip up lots of pieces of green tissue paper, sugar paper or crepe paper in a free collage style to create the forest background. The kids will love helping with this bit!
Storytelling Song Series
This puppet theatre accompanies our storytelling song series, a collection of posts all about how to tell and act out popular fairy tales and other stories through song. We'll be adding to this over a period of time, so be sure to come back to check out the latest songs in our collection! Each post will contain printable scenery and characters, perfect for acting out and singing the story!
If you make your own puppet theatre, or have made a similar one before we would really love it if you came and shared it over on our Facebook page!
http://www.pinterest.com/SaraMullett/craft-and-art-activities-for-kids/
If you enjoyed this post, come and join us on Facebook, Pinterest and Google + or subscribe to our free bi-weekly newsletter for many more musical ideas!
Get musical inspiration into your inbox!
Receive updates from Let's Play Music straight into your inbox!