Spring songs for kids is such a lovely way to explore the season through songs and musical activities. Little tunes about bunnies, chicks and lambs, as well as farm songs always go down so well.
The collection below includes a variety of spring songs for kids that look to teach different things. I've included a couple of counting songs, a circle game as well as some to be sung with puppets, so certainly something for everyone!
Spring Songs for Kids
 1. All Around the Daffodils Circle Game
2. The Little Ducks Go Upside Down: Action Song 
4. 5 Little Bunnies Finger Rhyme and Puppets
5. Little Pigs Counting Song
6. 6 Brown Eggs in a Nest of Hay Puppet Craft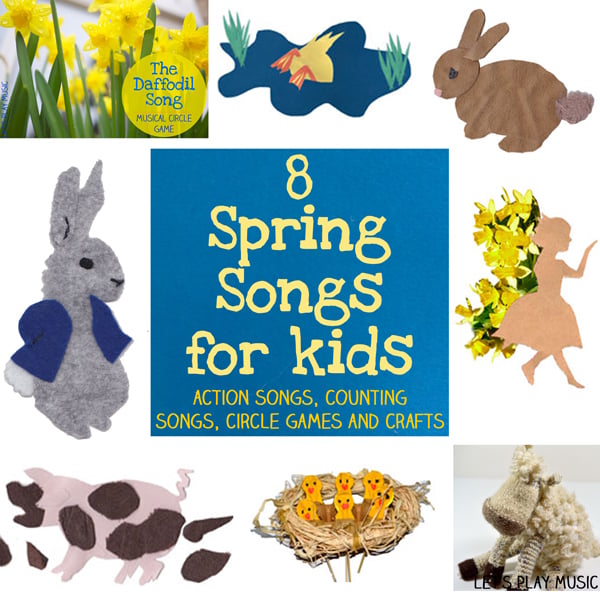 What are your favourite spring songs for kids to sing?
Check out our Spring Lesson Plan for a 35 min structured music lesson full of fun Spring themed ideas or our Easter Lesson Plan for plenty of bunnies and hot cross buns!!.
If you're looking for more musical, craft and general spring time activities, check out our Pinterest board!
Follow Sara @ Let's Play Music's board Spring & Easter – Kids crafts on Pinterest.


If you enjoyed this post, come and join us on Facebook, Pinterest and subscribe to our newsletter for many more musical ideas!