Making homemade musical instruments together is such a fun activity! Kids love getting involved with decorating them and then are so delighted to use them afterwards to make some music.
But over many years of teaching music to small children , there have been quite a few times when the contents of the shakers have exploded across the floor and we've been left finding those little grains of rice and lentils for months afterwards!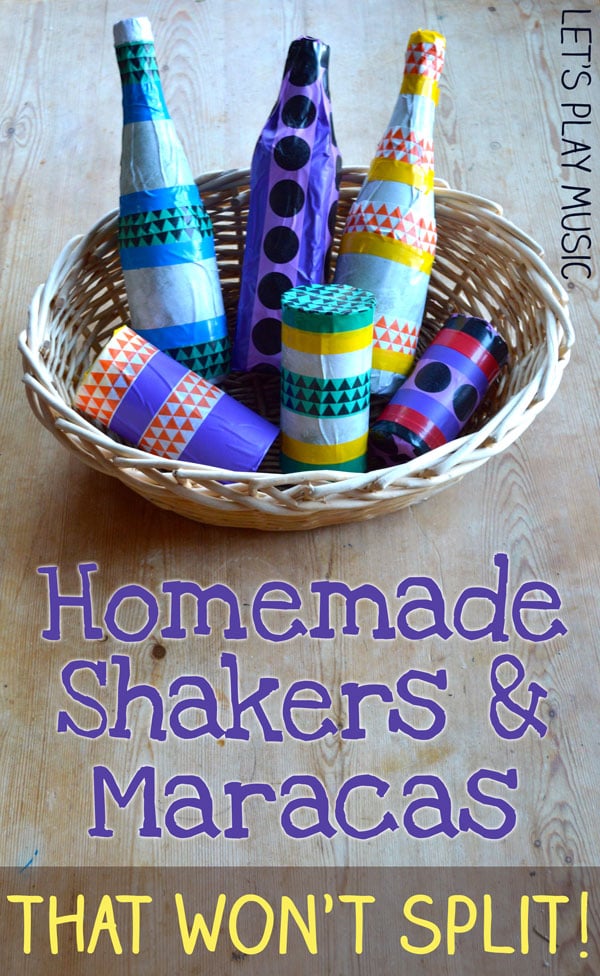 Making your own maracas or shakers would seem to be a pretty obvious task. But I wanted to share some practical advice when it comes to choosing the right materials. Putting them together so that you can make instruments that make a good sound and ones that can take a bit of a bashing too!  So I've made sure these DIY shakers won't split!
How To Make Bash Proof Homemade Musical Instruments
materials:
1. First choose containers that are made of good thick materials. There are some ideas below, don't use the sort of plastic bottles that scrunch up easily or ones that would be difficult for little hands to hold. These Badoit bottles are ideal, because they are not only pretty sturdy, but the have nice long necks to act as handles. Look out for cylindrical containers that might have a tin bottom, like the cocoa pot or tubular biscuit tins, these will be strong and make a really good percussive sound too.

2. The sound of the shaker will depend on what you put inside, so vary the contents. You can use sand and rice for a soft effect and lentils, or bigger dried peas and beans for a louder sound. Don't put too much in, it's good to have a bit of space for it to shake about in.  Make sure that you then seal the containers with duck tape securely.
3. Use sticky-back contact paper to cover the whole of the outside of the shaker, this is your insurance against splitting (you could also use duck tape). Be particularly careful to make sure the ends are well sealed.
4. Once they are covered you can decorate with stickers, coloured tapes or marker pens however you like.
5. These shakers should stand up to plenty of enthusiastic music making!
More ideas for upcycling
It's such a good idea to make instruments from recycled materials, why throw things away when you can re-invent them, and give them a new life?
Check out our post for a  Outdoor DIY Music Man made out of recycled materials! And take a look at our DIY instrument board on Pinterest for lots more musical inspiration.
This activity is also an excellent way to teach children about living responsibly and protecting the environment, why not check out our post and song for Earth Day to explore the theme further.
If you enjoyed this post, come and join us on Facebook, Pinterest and subscribe for many more musical ideas!
Follow Sara @ Let's Play Music's board DIY Instruments on Pinterest.