There are so many wonderful ideas for DIY instruments and music stations around. I thought that it would be fun to combine some of these ideas into an outdoor music man for our DIY Instrument series. Great fun for exploring different sounds and a good opportunity to make a lot of noise!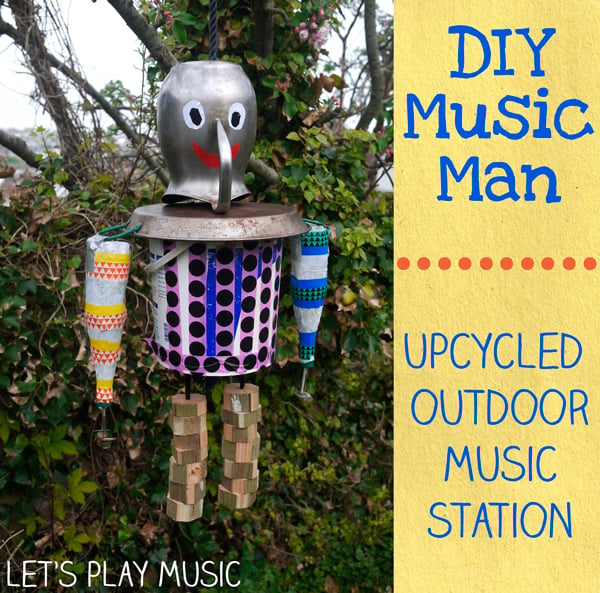 One of the best things about this project is that it is really easy to adapt to what you might have lying around your house or garden.
The only requirement is that they have to make a satisfying noise and be able to stand up to a bit of enthusiastic music making! This provides an excellent opportunity to explore alternative purposes of things with kids as well as teaching them about recycling and upcycling. It is always so satisfying to reinvent things – such fun!
How To Make The Outdoor Music Man
1. The Head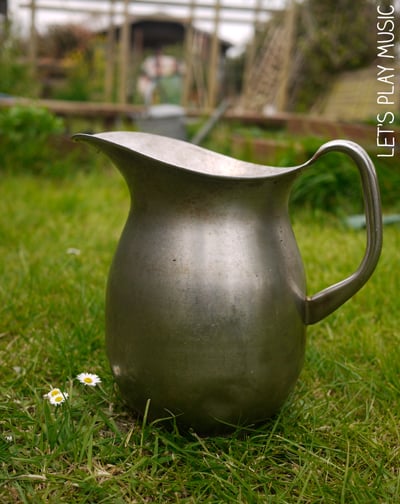 First start off with sourcing a head for your outdoor music man. I've used an old metal jug that has been in the garden for as long as I can remember. It has a hole in the bottom of it so this was the ideal upcycle! You could easily use a large 5 litre water bottle or cannister to the same effect. Just make sure that it is something that makes a satisfying noise when it is banged.
2. The body
For the body, I have used a large tub or bucket with a metal dish attached to the top. Mine was an old paella dish that was on its last legs. A couple of suggestions for things that would work just as well would be any large plastic tub and a frying pan or dustbin lid for the top part. You could of course skip the metal top all together but it creates a great variety in sound when the different materials are tapped which is fun to explore.
3. The arms
You can see how we made the arms here. They were left over from a Homemade Shakers and Maracas project from earlier in the year. Bottles work well here – any plastic ones will do and they are filled with rice which makes a fun shaker sound when they are moved. I do recommend covering them with electrical tape or washi tape as we have here, as it makes them a little bit less likely to split!
4. The legs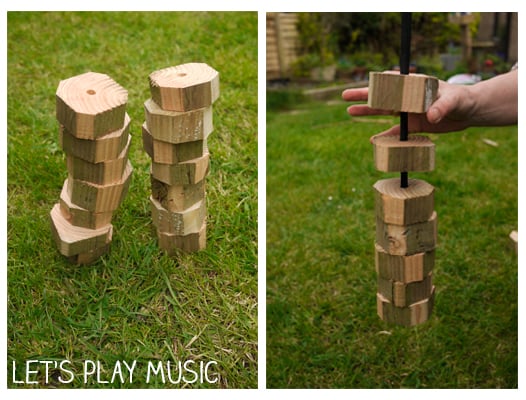 We made the legs out of an old fence post. To recreate something similar you do have to be handy with a saw and a drill – or know someone who is! We cut the fence post into chunks and then drilled a hole in the centre of each one so that we could thread through a string. You can lift the blocks up and down which make a fun tone block noise.
It would be a good idea to sand off any rough edges to minimise any chance of splinters.
5. The fingers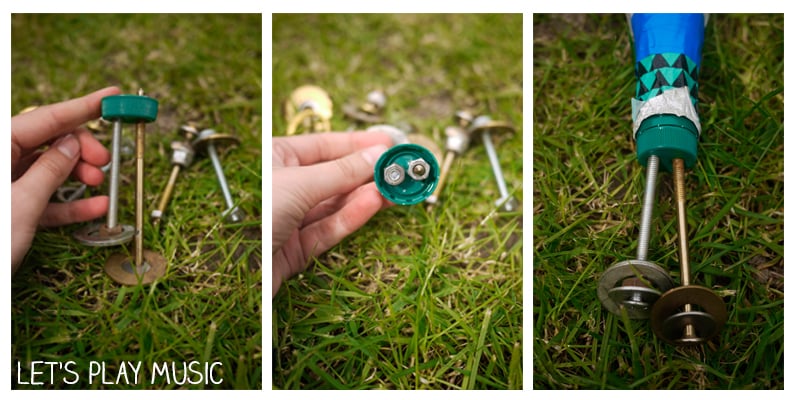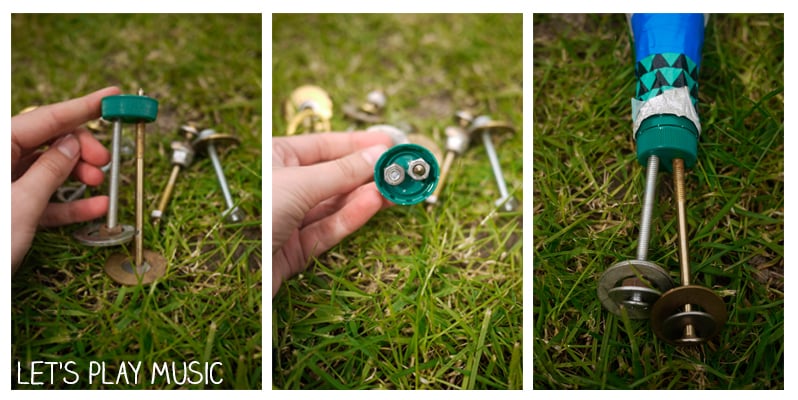 The music man is a little funny in that he only has 2 fingers on each hand! I wanted to find a way to make sure that I could conceal the sharp ends of the screws. So I pieced holes through the bottle tops of the arms and then secured with a nut.
These screws work really well as they make a lovely jingling sound. Any kind of ring/washer type thing that you might have lying around would work really well here.
6. Putting it all together

To fasten the outdoor music man together I drilled a hole in the bottom of the jug, the metal plate and the plastic tub. Three holes are needed in the plastic tub in a row. The centre hole is needed for the big piece of rope shown in the picture above to hold the whole man together, and the two outer ones so that the legs can be attached.
Once the holes are drilled, all you have to do is thread your big piece of rope through the head, metal plate and body. Then you attach the shaker arms and you're good to go. I used copious amounts of duct tape for the arms which probably wouldn't hold up to that much use so attaching with cord might be a little longer lasting.
And there we have it! An upcycled outdoor music man – brilliant for exploring all sorts of different sounds and noises. As with anything that involves screws, washers and the like I would of course recommend adult supervision when kids are playing with the outdoor music man.
Have you ever made anything like this? An outdoor music wall or station maybe? We would love for you to come and share your musical set up on our Facebook page!
Here are some other outdoor music stations from some of my favourite bloggers – be sure to go and check them out!

Follow Sara @ Let's Play Music's board DIY Instruments on Pinterest.