Frere Jacques is always a popular song with young children as it has an easy, familiar tune and offers a chance to explore a bit of French too.
You may be more familiar with calling it Brother John or Are You Sleeping? and of course the same tune is also borrowed in I Hear Thunder
The simple, stepping melody makes it a perfect easy piano piece for beginners. Although it does extend one note above the five finger range, children still usually pick it up quite easily because of the familiar melody.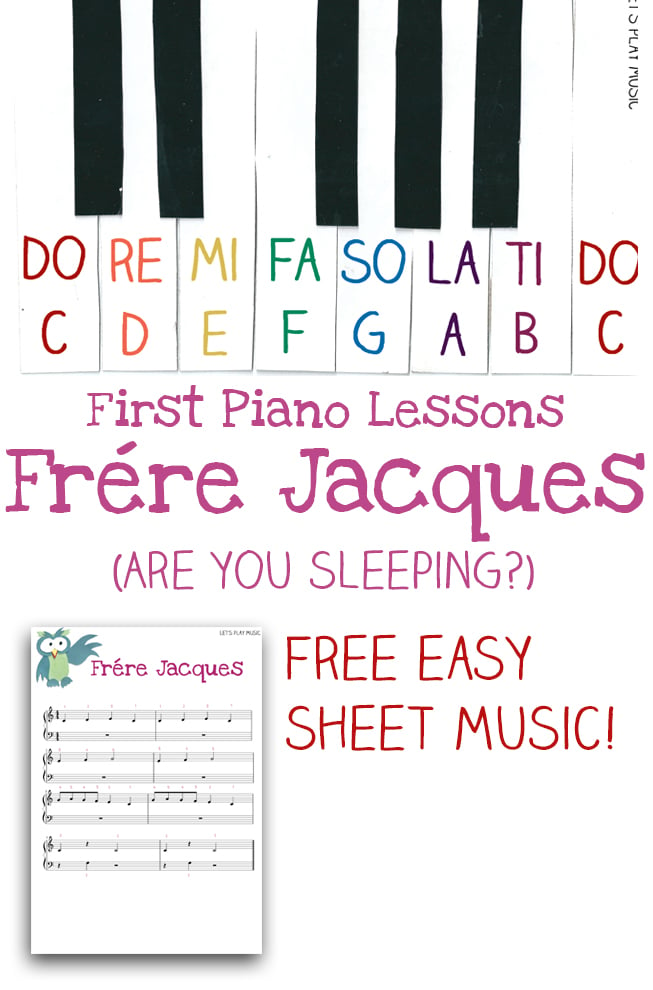 Even if you don't read music it's easy to play this tune using the guide below. You start on C with your 1 (thumb) and follow the finger numbers. If you are completely new to the piano you might find my First Piano Lessons eBook and other First Piano Lessons posts useful.
Easy Piano step-by-step: Frere Jacques or Brother John
Frè-re Jacques, Frè-re Jacques
C – D – E – C C – D – E – C
1 – 2 – 3 -1 1 – 2 – 3 – 1
Dor – mez vous? dor-mez vous?
E – F – G E – F – G
3 – 4 – 5 3 – 4 – 5
So – nnez les ma – ti – nes ,
G – A – G F – E – C
4 – 5 – 4 3 – 2 – 1
So – nnez les ma -ti – nes ,
G – A – G F – E – C
4 – 5 – 4 3 – 2 – 1
Ding, dang, dong! (repeat)
C – G – C
1 – (L2)- 1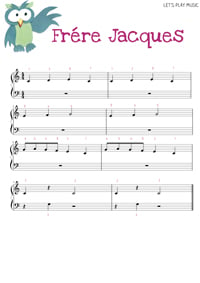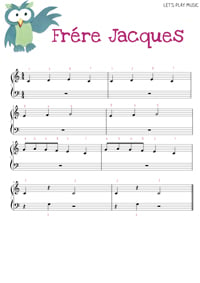 Print your free sheet music for Frere Jacques here.
How to teach Frere Jacques on the piano
Start by singing the song, or better still if you have a xylophone or chime bars you could play it to the child first. Use the note names against the words written out above. If the child is already reading, ask them to follow the words and sing along.
Encourage the child to attempt to copy and work out the tune using the chime bars. This helps to see and hear the pattern and movement of the notes and is excellent preparation when it comes to playing it on the piano.
Using the printed easy piano music next ask the child to trace with their finger the path of the notes. Ask them to slide their finger either up or down without taking their finger off the paper. As they move it say up-up, down-down accordingly.
Warn them to watch out for where the notes 'hop' on 'Ja-cques' and 'ti-nes' from E to C from 3 – 1. Make it sound vocally fun with exaggerated ups, downs and a huge fuss over the hop!
Point out the time signature, explaining that Frere Jacques has 4 beats in a bar. This means you count 4 beats in before starting to play each time.
At the piano, help the child to identify the starting note middle C and place their right hand with 1 on middle C.
Taking Each Bar At A Time
Taking each bar at a time first sing the note names C-D-E-C and then sing the finger numbers 1-2-3-1. Then ask the child to try to play that bar while you sing the finger numbers and point at the notes on the music.
If the child finds this difficult, you can help with the fingering by touching each finger and singing 1-2-3-1 etc before they attempt each phrase. This helps make the connection needed.
On 'So-nnez les Ma-ti-nes' you must point out that the 4 needs to take one step higher up from F to G. This is to make sure you can play the A with your 5 and don't run out of fingers.
Watch out for the hop from 2 – 1 on the E – C of last two notes of that line.
Continue to work in this way, bar by bar. This may take more than one lesson, it doesn't have to be completed all at once. It's important not to expect them to concentrate for too long.
On the Ding, Dang, Dong C -G -C, the left hand has to have a little guest appearance on the G below middle C. This should be played with 2. This might be a new note – so spend some time finding and getting to know it. The child will be excited to play a new note in the left hand.
Most Popular Easy Piano Resources
Want to keep up to date with Let's Play Music's latest posts? Subscribe, or follow us on Facebook.