Here's a fun dinosaur Song especially for all those budding paleontologists out there!
Many small children have a huge interest in dinosaurs but strangely enough there don't seem to be that many dinosaur songs around! These little dino fans often pride themselves with an encyclopedic knowledge of all the different types and names of the dinosaurs.
So I wrote The Dinosaur Stomp especially with these kids in mind and it's sung to the traditional tune of The Grand Old Duke of York.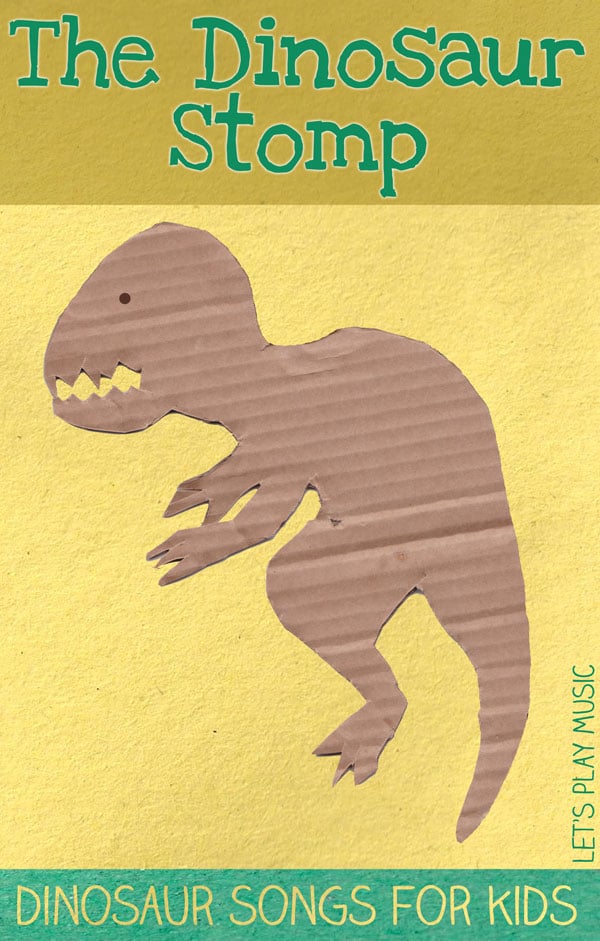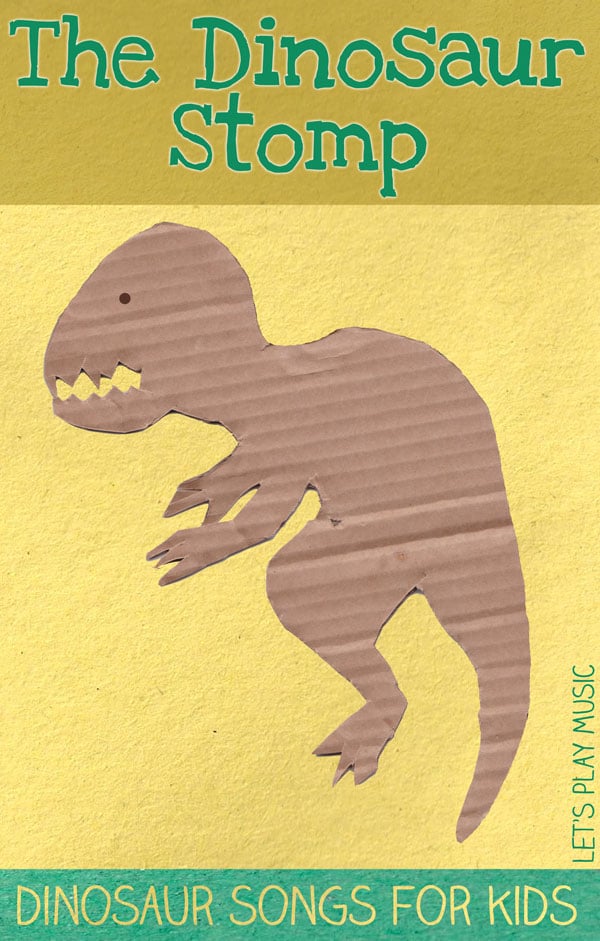 The Dinosaur Stomp – Dinosaur Song
Oh Tyrannosaurus Rex, (hold two hands like dinosaur claws)
He walked on his hind legs, (stomp feet)
He stomped them up to the top of the hill, (stomp upwards)
And he stomped them down again. (stomp downwards)
*
chorus
He was as high as a house, (hold arms up high)
He was as long as whale, (hold arms out wide)
A great big dinosaur, a hundred (pretend to be a dinosaur)
Million years ago! (hold hands like claws)
*
Oh the huge Diplodocus, (hold arms up like a monster)
He had a great long tail, (swish arm like a tail)
He swished it up to the top of the hill, (swish it up high)
And he swished it down again. (swish it down low)
*
(chorus)
*
Oh the fierce Triceratops, (pretend to be a fierce dinosaur!)
He had three pointed horns, (make pointed fingers like horns on head)
He scared them up to the top of the hill, (be a scary dinosaur!)
And he scared them down again. (continue to be scary!)
*
(chorus)
*
Oh the spiky Stegosaurus, (make pointy spiky shapes in the air)
He had a spiky spine, ( point to pretend spikes on your back)
He marched his spikes to the top of the hill, (stomp upwards like a dinosaur)
And he marched them down again. (stomp downwards again)
*
(chorus)
(Sung to the same tune as Grand Old Duke Of York)
Idea For Singing The Song
Each verse focuses on the name and individual features of a different dinosaur. But to make the chorus catchy and easy to remember it's necessary to generalise and use approximate sizes and dates to help them get an idea of how verty long ago it was, and how huge they really were!
Of course it's also very easy to simplify this dinosaur song by just substituting the rather impressive names with "a great big dinosaur!" and this will make the song much easier for younger children or perhaps ones who aren't necessarily dinosaur experts!
A great exercise for older kids is making up a new additional verse – I'm always amazed at their clever and original ideas! So if you get round to adding a verse, do please share it in the comments section below 🙂
We love 'We are the Dinosaurs' from Little Angel! It's got the catchy tune and all the actions but all the different types and characteristics are included too! 👏👏
And it's impossible to stand still to this 'Dinosaur Stomp' from Koo Koo Kangaroo!
Check out our Dinosaurs Explorers Lesson Plan for lots more fun with Dino themed musical activities