With the Christmas season on the way, Mums need all the help that they can get juggling with all the planning and preparations on top of everything else.  Santa's Little Helper from our Kids Songs For Christmas is a little song all about the Elf On The Shelf!
It's sure to come in very handy as an incentive for good behaviour at this extremely exciting time of year!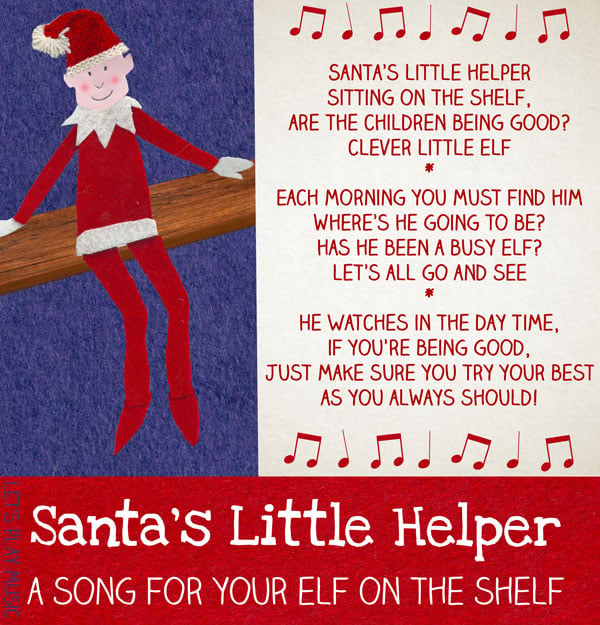 Santa's little helper,
Sitting on the shelf,
Are the children being good?
Clever little elf!
*
Each morning you must find him,
Where's he going to be?
Has he been a busy Elf?
Let's all go and see!
*
He watches in the morning,
When you're getting dressed,
Don't forget to brush your teeth,
Then he'll be impressed!
*
He watches in the day time,
If you're being good,
Just make sure you try your best,
As you always should.
*
He watches when it's bed time,
When you go to sleep,
All the little children,
Safely he will keep.
Kids Songs For Christmas
Some parents have found that this concept of the Elf On The Shelf can cause a certain amount of anxiety for their children  (it is a bit worrying to think you're being spied on!)  but Santa's Little helper from our Kids Songs For Christmas series makes it clear that he is a positive presence that encourages good behaviour and keeps a protective watch over them.
This song would be perfect to sing with a little elf puppet. You can either adapt one of the little Elf on the Shelf dolls that you might already have, or make a card cut-out one and mount it on a stick. Use your little Elf to remind children that nice things happen to good little people!