A big favourite from our Halloween Songs For Kids is The Halloween is Coming circle game. Because it has all the essential spooky ingredients to set the scene. When the bat and pumpkin decorations have been cut and carved and all the costumes have been stuck and sewn, it's the perfect spooky little dance to celebrate!
Halloween is coming,
Halloween is coming,
Witches will be after you!
Skeletons, cats and big black bats,
Ghosts and pumpkins too!
*
Flap, flap, flap go the big black bats, 
Oooooh!
Moeow, meow, meow, go the spooky cats,
OooooH!   BOO!  
Halloween is Coming
Halloween Songs For Kids
This circle game is a perfect activity for a Halloween party with children aged around 4 -7 years old. And it's so much fun when everyone is dressed in Halloween costumes!
First you need some spooky props such as a cat, bat, ghost, witch, & pumpkin. Print the rhythm sheet below and mount the images.  Alternatively the kids can make their own simple crafted ones from card and tissue paper.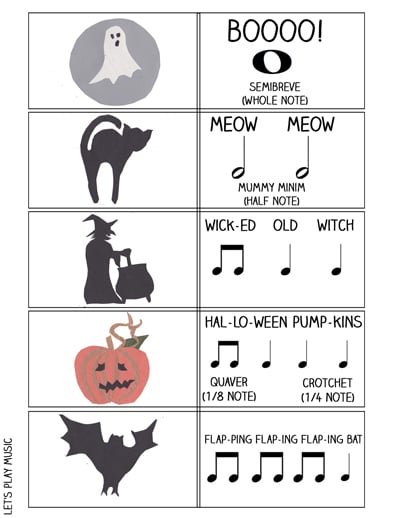 How to play the Halloween Is Coming Song circle game
Put the props in a bag or box.
The children form a circle, holding hands and making arches by lifting up their arms together.
The first child reaches in the bag and pulls out a spooky character.
As everyone sings the song, the first child skips in and out of the arches, 'scaring' everyone with the thought of spooky witches and ghosts etc.
When the song is finished, they tap the next child on the back, and when they turn around, they get given the spooky character.
It is then their turn to choose another character.
Repeat the game until everyone has had a go.
How To Use the Halloween Songs For Kids rhythm sheet
Mount it on card and cut along the lines. It can be used as a guessing game to match the correct sound/rhythm to the correct picture or it can also be used as a memory game of pairs.
For older children, this song lends itself perfectly to a spooky musical rhythm performance.
This very simple tune is repetitive and easy to play on chime bars as you can see in the clip above.
Then decide on a selection of sound effects with whatever percussion instruments you have available.
Choose a different instrument for each character, or even add effects like the howling wind and hooting owls.
Allow plenty of flexibility for imaginative and artistic license!
Set the instruments in a circle on the floor and give each child something to play.
Repeat the song until everyone has had a go of each instrument and sound effect.
For some more Halloween inspiration, check out our Halloween lesson plan for 30 minutes of musical, spooky fun in a structured lesson. Are you a music teacher or homeschooler? You might find my new music lesson plan series useful!
Come and join us on Facebook, Pinterest or Subscribe for many more musical ideas!