Singing Frère Jacques is likely to be the first time that many English and American kids come across the French language, unless they are lucky enough to have someone who speaks French in the family. The simple repetitive tune (the same as I Hear Thunder) is easy to pick up and the small range makes it perfect for young voices. Small children are fascinated by the unusual words and keen to explore the different sounds and accent. In The UK we usually only sing the French words, but the English translation is underneath. This song is one of the easier ones to play on the xylophone, as you can see in the chime bar clip below.
*
Frère Jacques, Frère Jacques,
Dormez vous? Dormez vous?
Sonnez Les Matines, sonnez Les Matines,
Ding, dang, dong! Ding, dang, dong!
(translation below)
Brother John, Brother John,
Are you sleeping? Are you sleeping?
Ring the Matins bell, ring the Matins bell,
Ding, dang dong! Ding, dang, dong!
*
Older children (5yrs+) can learn to sing this song as a round, and this is such good practice for developing the ability to follow your own musical line against another, learning to harmonise, to listen to the sound they are making, and pitch their notes in tune with the other voice.
This may sound a little complicated, but in fact it is a simple, approachable way to introduce these more advanced musical concepts without it seeming difficult at all. A good way to teach a child how to sing in a round is to sing it together with a recording, joining in two bars or measures later (after you have heard the first line, Frère Jacques, Frère Jacques). The video below gives a quick demonstration and has the words written so that kids can join in and practice.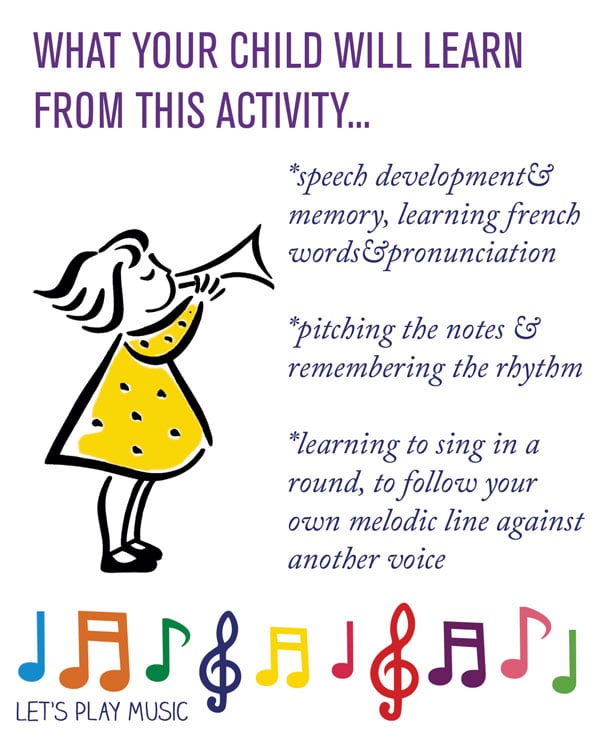 If you enjoyed this post, come and join us on Facebook, Pinterest and Google + or subscribe to our free bi-weekly newsletter for many more musical ideas!