Children love counting songs at any time of the year and 5 Little Penguins is a perfect song for preschoolers to celebrate the Winter season.
The 5 Little Penguin song has so many educational benefits, it's great for developing early numeracy, speech development and story telling. But most importantly lots of fun too because everyone loves penguins!
Five Little Penguin Counting Song
Five little penguins wanted to go fishing,
So they set off, waddling in a line,
It was nearly tea-time, they were getting hungry,
And one dived down a hole, to see what he could find.
*
Four little penguins wanted to go swimming,
So they jumped off the rocks, splashing in the sea,
One little penguin was feeling rather poorly,
And he stayed home, to play with me!
*
Three little penguins wanted to play snow balls,
So they went off, to play out in the ice,
One little penguin got buried in a snow drift,
His Mummy came to dig him out, wasn't that so nice!
*
Two little penguins practising their skating,
Learning to twirl and spin, clever little things!
One skated down the hill, right down to the bottom,
And couldn't climb back up, even when he flapped his wings!
   *
The last little penguin, feeling rather lonely,
Went to find some friends, in the penguin huddle,
He found his Mum and Dad, Sisters and his brother,
He was very happy, and he gave them a cuddle!
(sung to the same tune as Down At The Station)
The tune is borrowed from
Down At The Station
(also the same as the old french folk nursery rhyme Allouette) so it's easy to pick up. Counting songs like this always work  well with a felt board or puppets because it helps to give the children a visual focus and assist with the counting.
Make your own little stick penguin puppets with our free printable sheet below (or click here to print), just mount them on some card and attach the sticks.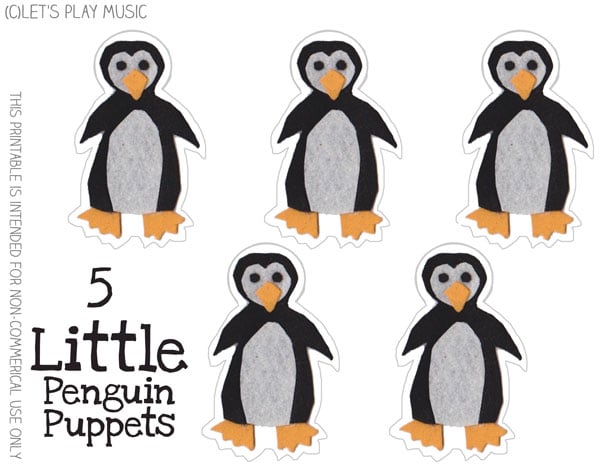 Penguins, penguins having fun,
Waddling in the Winter sun,
Waddling fast and waddling slow,
Waddling to and waddling fro,
Penguins, penguins having fun,
Waddling in the Winter sun.
(sung to Twinkle Twinkle)
The Five Little Penguin Action song is a perfect activity for toddlers and even more fun if they try to waddle along balancing a bean bag on their feet! ( it makes a great Penguin Race party game for older kids too!)
Here's another great penguin song that so catchy the kids will love it!
Check out our Winter lesson Plan for lots of seasonal activities combined in a structured 30 min lesson.