1 2 3 4 5 Once I Caught A Fish Alive is always a favourite counting song. It encourages little ones to count their fingers from 1 – 10 , while it also has the lovely imaginative actions of catching a wriggly fish from a pond.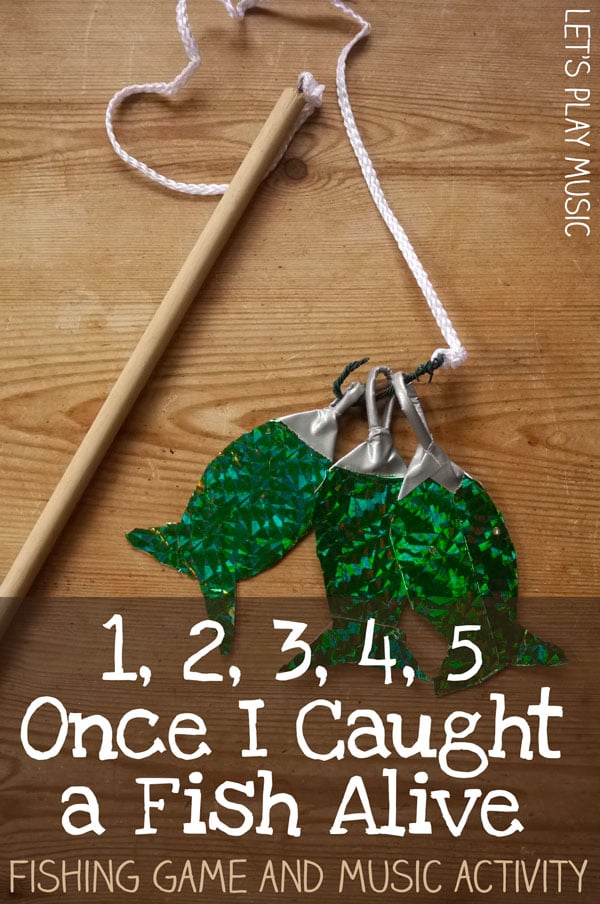 One, Two, Three, Four, Five,       (count out fingers on one hand)
Once I caught a fish alive,    (catch an imaginary fish with hands) 
Six, seven, eight, nine, ten,      (count out fingers on other hand)
Then I let it go again,                      (drop the pretend fish)
Why did you let it go?                     (wag finger on the beat)
Because it bit my finger so,           (snap fingers in biting action)
Which finger did it bite?            (hold out hands in question)
This little finger on the right.                       (wiggle little finger)
This song can be sung very happily  with actions alone and it is a great one for bath time too, but it's best of all if you combine it with a fishing game.
We made these simple cardboard fish, with duck tape loops, and decorated with shiny paper in no time at all.  Then all you need is a stick and a piece of string with a hook fashioned from garden wire and you're all ready to go fishing.
There are lots of other variations of these DIY fishing games around. If you have a little more time, making one with felt and magnets like this one from One Perfect Day is lovely and the kids will play with it again and again.
Alternatively there are plenty to choose from on Amazon – with this wooden and magnet fishing game being one of my favourites.
To download the 1, 2, 3, 4, 5 Once I Caught A Fish Alive sheet music please click here.
Here's another easy fishing game craft that looks like lots of fun! All you need are plenty of coloured pipecleaners and goggly eyes!
Come and join us on Facebook, Pinterest and Subscribe for many more musical ideas!