I'm very excited to be able to announce the launch of a new eBook – How To Read Music Made Easy. This has been in the works for the best part of a year, so i'm very excited to be able to share it with you all!
Since I published my First Piano Lessons eBook around 2 years ago, I've had lots of requests for a book which takes a similar fun and playful approach towards music theory and teaching children how to read music.
So here it is….
How To Read Music Made Easy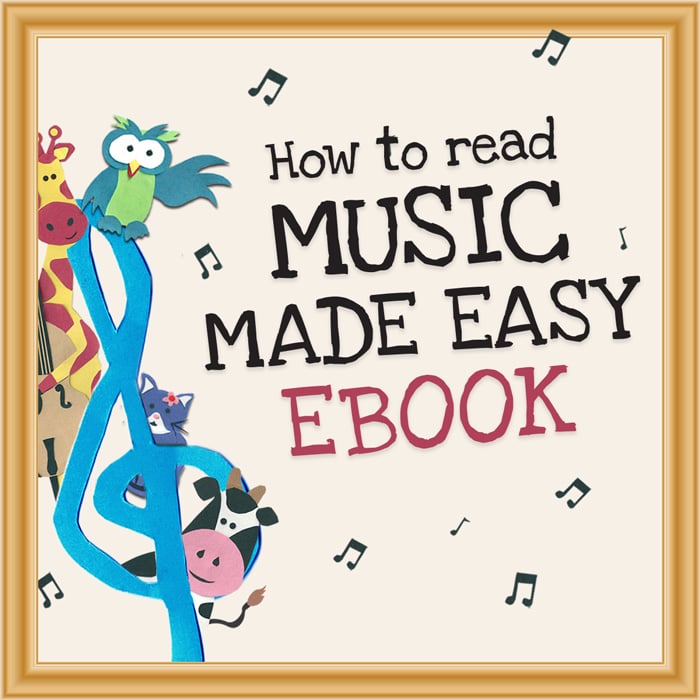 How To Read Music Made Easy is designed to be a fun and friendly way to introduce music theory to small children. It does this by offering simple, child friendly explanations of musical concepts, through tactile exercises and 38 pages of printable worksheets and flashcards.
How To Read Music Made Easy is available for $14.99 via digital download – so you can buy it now and download it right away, wherever you are in the world!
What topics are included in the eBook?
Understanding The Staff & Clefs
Finding The Notes
Memorising The Lines & Spaces
Introducing The Note Family & Rests
Building Rhythms
Teaching Intervals
Help With Memorising Intervals
What Are Chords & Triads
What Is A Major Scale?
Introducing Sharps & Flats
First Key Signatures
What Is A Minor Scale?

What printables are included in the eBook?
Clef quiz
Clef drawing
Piano Keyboard & Stave
Note Naming Flashcards
Piano Keyboard
Note Naming Using Pneumonics
Treble Clef Pneumonics
Bass Clef Pneumonics
Can You Be A Music Detective?
Feed the Greedysaurus Game
Dino Footsteps
Time Signature Flashcards
What's The Time Signature Mr Wolf?
Interval Flashcards
C Major Quiz
Chord Snowman
What Is A Sharp?
What Is A Flat?
F Major Quiz
G Major Quiz
Minor Scales
Relative Minors
Answer Sheet
For more information on the eBook, including FAQs for appropriate age groups, please visit the product page in our store.