This Mary Had A Little Lamb Easy Piano Music always goes down very well with young beginners in their first piano lessons. It is so enjoyable to play a tune that everyone knows. Easy to learn and fun to play!  Both excellent incentives to get little ones off on a good start when beginning the piano.
Even if you don't read music it is easy to pick up this tune. It only uses right hand fingers  1, 2 and 3 on E, D and middle C.  So its simple repetitive pattern of just 3 notes is perfect for little ones to grasp. If you are completely new to the piano check out my other First Piano Lesson Series posts which introduce the basics of the piano for beginners.
---
Have you tried our First Piano Lessons eBook?
Our best-selling eBook the perfect introduction to piano for your little one.
---
A xylophone or chime bars   are a great way to get started.  Sing the song and playing it on the xylophone or chime bars first as it helps the child to grasp where the notes move up and down. If not, go straight to the piano and work through the following steps together to introduce the child to the notes and rhythm first before attempting to play it.
How To Play Mary Had a Little Lamb Easy Piano Music
1. Sing the song together as you play the notes.
2.  If you have a xylophone let the child play the tune next as you point to the notes in the correct order. The physical movement helps them to grasp how the notes actually step up and down.
3. Using the printable sheet music, play the following little game together. Ask the child to trace with their finger the path of the notes sliding it either up or down without taking their finger off the paper. As they move it say up-up, down-down accordingly. Warn them to watch out for where the notes 'hop' between 'lamb' and 'it's' from E to C.  Make it sound vocally fun with exaggerated ups, downs and a huge fuss over the hop!
4. Explain that there are four beats in a bar or measure and count 4 beats in together before you start each time. Help the child to place their fingers (in a curved shape) over the correct notes. Talk them through each phrase of the song line by line pointing to the notes as they try to play them. Depending on the age of the child they may need varying levels of help and attempts to manage this.
5. Once the child has mastered playing the tune on their own, there is a simple teacher's accompaniment which sounds lovely when played as a little duet. This gives a lot of pleasure to fledgling pianists!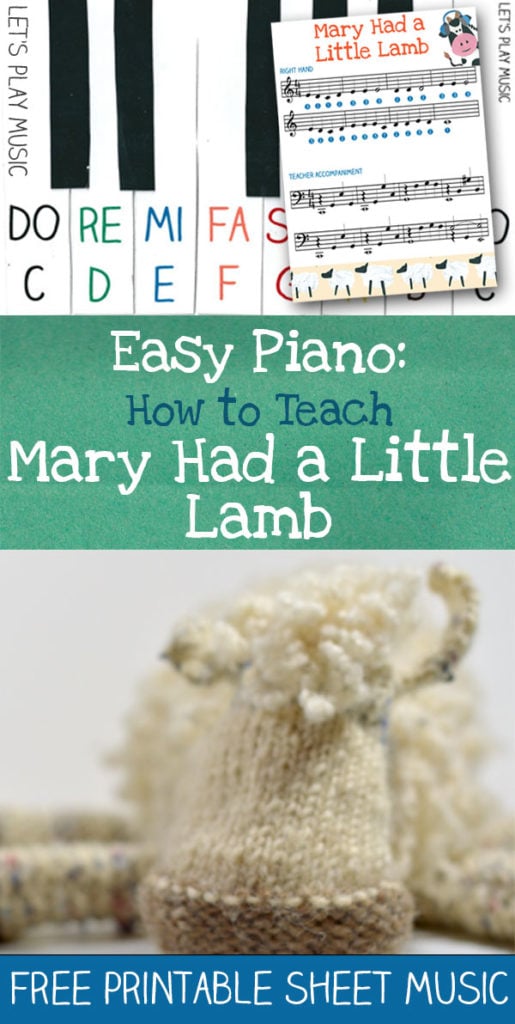 For more simple sheet music for kids and free printable music education resources, check out my Pinterest board below.
Follow Sara @ Let's Play Music's board First Piano Lessons on Pinterest.


If you enjoyed this post, check out my First Piano Lesson eBook and musical lesson plans which are full of musical games and activities to make music lessons fun!