There are lots of great songs for learning So Mi and La, but I particularly like this Hey Ho Here We Go, it's a fun circle and guessing game, and a song with movement is always such a great way to help with learning and understanding a lesson.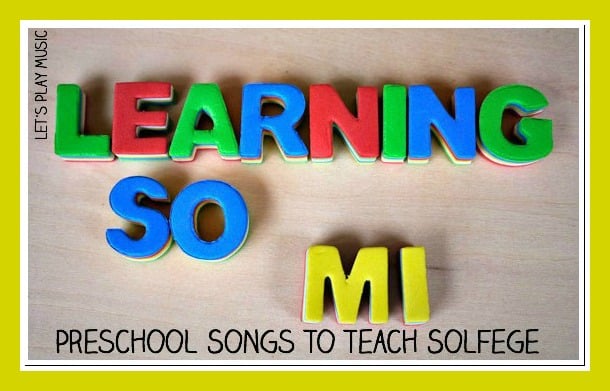 Hey Ho Here We Go! is adapted from a version by Aden Lewis from one of his excellent series of books Sing, Listen and Learn  which are really difficult to get hold of these days, so it's all the more important to share!
Hey – ho   here we go,        round and round to – ge-  ther
so   mi      so   so  mi,           so    so        la   la             so     mi
(repeat first line)
sometimes high and sometimes low,
so  so     la   la     so   so       mi
sometimes round and round we go,
so  so            la     la        so  so     mi
Tell us please     if you know?
so so       la        so so     mi
Are we high or    are we low?
so  so  la  la     so so  mi
Sing the song through a couple of times showing the children the So, Mi and La curwen hand signs before playing the game.
First choose one child to stand in the middle of the circle and hide their eyes.
The rest hold hands and go round in a circle.
They follow the actions of the song, stretching up on 'high' , crouching down on 'low'  and spinning on the spot on 'turning round'.
Just before the end of the song, the teacher indicates a higher So or lower Mi hand sign  and the children stretch up or crouch down accordingly.
The child in the middle now guesses whether they are high or low.
To choose the next child – tell them you will choose the one who is most still and quiet!
This song consolidates learning so mi and la with a strong visual and physical demonstration that helps children to understand and remember the lesson. For children who are starting to read music, this is an ideal song to practice with gem stones or bottle tops representing each syllable placed on a large two line stave, to show how the notes move up and down.
Visit my other posts on the subject, Introducing Do Re MI and Do Re Mi Activities for lots more tips and ideas about teaching kids solfege.
Have you seen our new How To Read Music Theory Bundle? It's the fun & child friendly way to learn to read music!