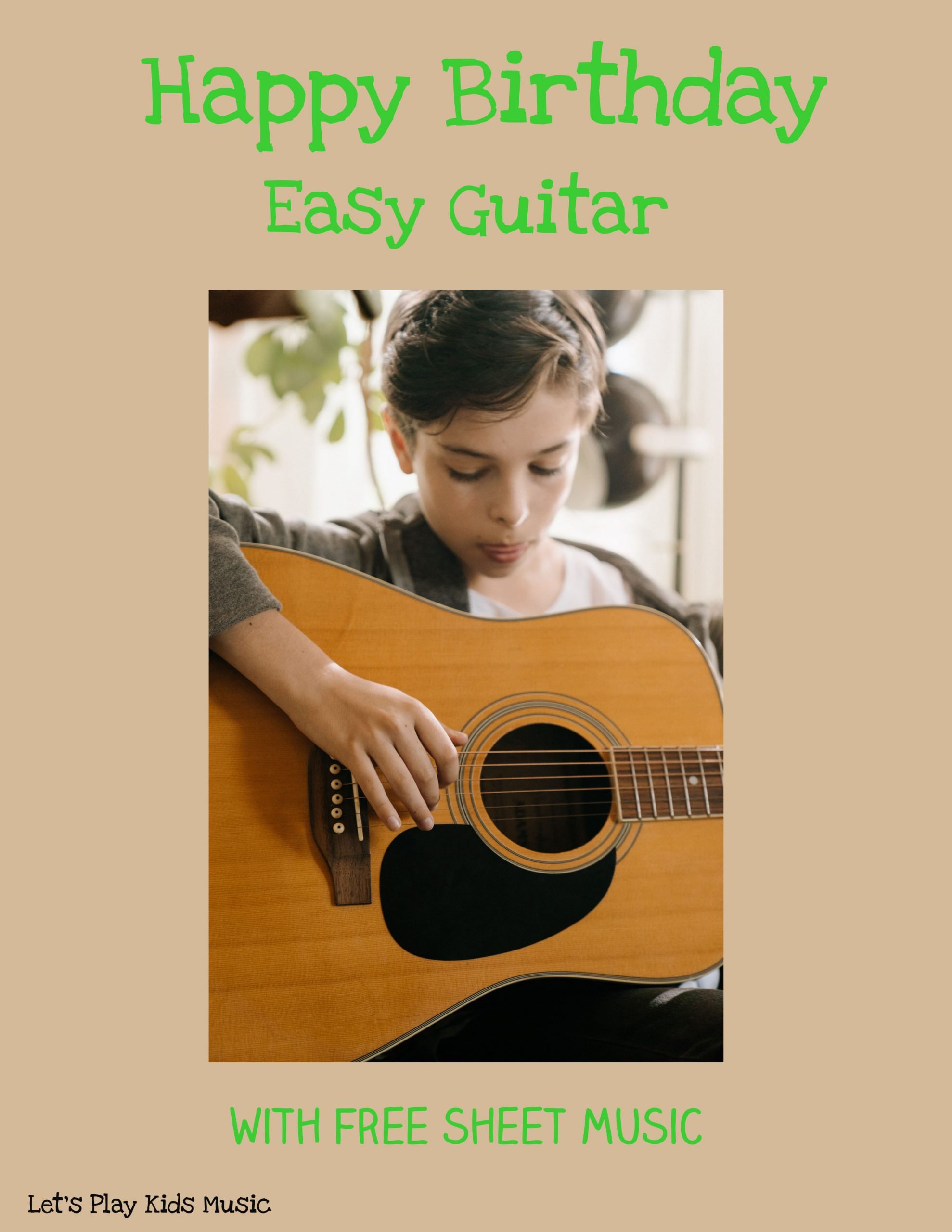 Our free resources for learning to play Happy Birthday on piano are always so popular, so I'd like to encourage any beginner guitarists in the same way with this Happy Birthday Easy Guitar.
Here on Let's Play Kids Music, you'll usually find mostly piano and keyboard sheet music and tutorials but I'm often asked if we do the same for guitar. When you start to play any instrument, it's always so exciting to learn to play something that everyone can enjoy together.
In this post you'll find an excellent youtube tutorial from kidsguitarzone.com which is a really good site for kids guitar. The tutorial is slow and clearly explained, and I've also added some easy sheet music with the guitar tab and chords.
PRINT HAPPY BIRTHDAY SHEET MUSIC HERE
How To Practice Happy Birthday Easy Guitar
It's a good idea to get used to using a practice diary right from the start. Record briefly what you have been working on in the lesson, making a note of any particular things you want them to remember.
Help kids to understand the importance of learning to practice properly. During the lesson, talk about the way that they should approach their practice. Stress the importance of setting aside a regular time, away from background distractions.
Encourage them to practice as soon as possible after each lesson to make sure that they don't forget the new things they've learnt that week.
Explain that it's better to concentrate on just a small section of the music, a couple of bars at a time, and learn to play it correctly rather than attempt the whole piece with lots of mistakes.
But also reassure the child that if they can't get something right at home, then that's not a problem, just make a note to ask for help at the next lesson – that's what the lessons are for!
A whole new piece can often be a bit daunting, so break it down into short sections and make it clear that there is no pressure to attempt the whole piece straight away.
Children nearly always want to play things too fast. Try to explain that it's better to start off very slowly, and only speed up once you can play it easily.
More Practice Tips….
A good teacher aims to help their pupil to teach themselves by instilling the following practice disciplines.
1. Listening to the sound that they're making, asking and solving problems
2. Breaking it down into bite size 2 bar bits, and instilling the discipline of isolation and repetition of the tricky bits, you will be helping them to develop the skills that they need to cope on their own.
Using stickers, marbles, charts and games to encourage and motivate are all excellent ideas. Be consistent but also flexible enough to mix things up from time to time to keep them interested.
Give lots of praise when the child has done good work and achieved the goal, but if they haven't, don't scold them, see it as a challenge to find something that does motivate them, perhaps a new piece, new game or goal? There is always some way of harnessing their enthusiasm.