Using classical music to teach emotions can really help young children to understand their feelings. By playing a variety of contrasting tracks, you can create different moods which can encourage kids to discuss and explore their emotions.
Music is a language that crosses boundaries and one that people of all ages and backgrounds can share. Whether it's high emotions and drama or serene peace and calm, these moods can be conveyed without the need for words through the beauty and the depth of music.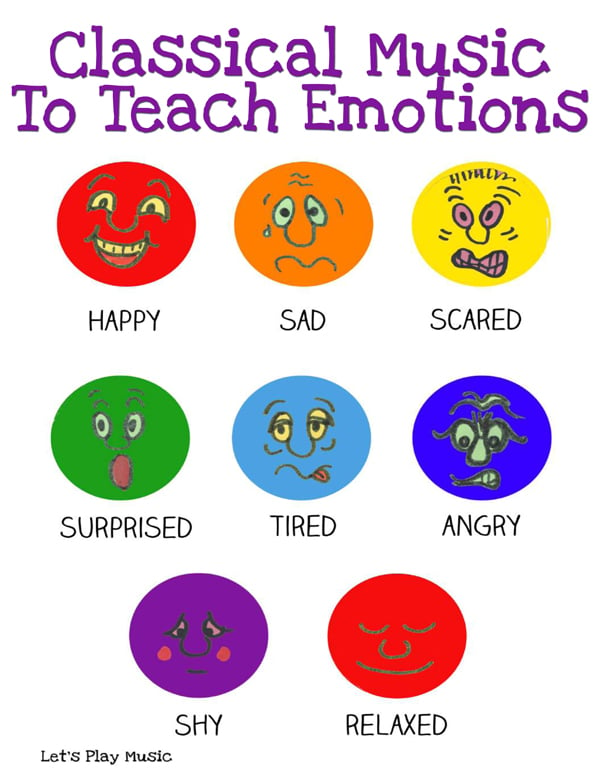 Here's a list of links of the best classical music to teach emotions. Of course most are very well known and the mood is quite obvious. Some of these pieces of music might mean different things to different people, and that's ok, because it starts the conversation and therefore embarks on the journey of self-discovery.
These music suggestions can be used in so many different ways, to accompany all sorts of activities. From imaginative movement with scarves and streamers, to background for imaginative play or simply to help spark creativity during crafts.
The Best Classical Music To Teach Emotions – To Stream.
Handel's Arrival Of The Queen Of Sheba to feel uplifting joy.
Mozart's Marriage of Figaro Overture for positivity.
Offenbach's Orpheus in The Underworld to generate excitement.
Wagner's Ride of the Valkyries to conjure drama.
Prokofiev's Dance of The Knights to evoke power, confidence and strength.
The Trisch-Tratsch Polka by Johann Strauss for fun and frivolity.
Barber's Agnus Dei to explore eerie, melancholy feelings.
The Entertainer by Scott Joplin for fun and mischief.
Saint-Sains Danse Macabre to encourage bewitching and mysterious feelings.
The Flower Duet from Lakme by Leo Delibes for warmth.
The finale of Rossini's William Tell Overture to explore thrill and excitement!
Adagio in G Minor by Albinoni to evoke sadness.
Debussy's Clair de Lune to establish peace and calm.
Pachabel's Canon in D for calm and serenity.
If you want to explore this topic further, check out the Emotions Song and Guessing Game or the Feelings Lesson Plan for more related activities.
The Best Classical Music To Teach Emotions – To Download.
If you can't stream these via YouTube, you can download them from Amazon below.
Stay up to date with Let's Play Music!
Receive new post notifications and updates from Let's Play Music straight in your inbox!